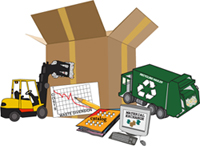 Consultant Products and Services



see disclaimer
---
There are several organizations and businesses that offer assistance in setting up reuse and recycling programs. In addition, you can contact your carter, as they are required to offer a free waste-stream survey.
NYC WasteMatch


(212) 650-5832
This free materials exchange service is sponsored by the NYC Department of Sanitation BWPRR. NYC WasteMatch facilitates the exchange of unwanted, surplus, or used supplies, furniture, and equipment from businesses to entities in need of them. Materials are available for free or a low cost.

CityMatters LLC 

 
Greener Office Programs 

 designs and implements recycling programs for public and private sector places of business. 

Coalition for Resource Recovery


Global Green USA's

 CoRR helps businesses increase profits by transforming waste into assets. The nonprofit Coalition identifies and promotes effective waste diversion technologies and programs through conducting pilots in New York City.
Great Forest


2014 Fifth Avenue
New York, NY 10035
(212) 779-4757
Assists clients in installing and maintaining their recycling programs.
GreenTeamNYC


Green Team NYC brings together eco-friendly restaurant services in the city to provide a one-stop-shopping solution to restaurants that want to Go Green.
Green Restaurant Association (GRA)


The GRA is a national non-profit organization, provides a convenient and cost-effective way for restaurants, manufacturers, distributers and consumers to become more environmentally responsible.
Institutional Recycling Network


7 South State Street
Concord, NH 03301
(603) 229-1962
Assists institutions in recycling and reuse programs.
Lower East Side Ecology Center EcoBizNYC Program


(212) 399-1500
email: Info@LESEcologyCenter.org
This free program assists Manhattan businesses located between 6th Street and 14th Street, East of 1st Avenue, to actively reduce air pollution, carbon emissions, and airborne environmental health hazards in NYC through environmental auditing, education, and action.
Midpoint International, Inc.


Canadian manufacturer of recycling containers made from recycled materials has an online guide explaining How to Implement Office Recycling Programs 

 and helpful Recycling Slogans, Messages & Facts 

.
ALSO SEE:
nyc's recycling requirements
back to top | back to general products and services | back to products and services