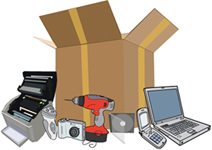 Toner Cartridge Products and Services



see disclaimer

recyclers and buy recycled


manufacturers with recycling services


recycle with a charity
When choosing an electronics recycler, it is important to find out more information about how they process and recycle the materials they collect. Be sure to contact the facility for details about their process and about their end markets.
ALSO SEE:
manufacturer and retailer take back programs
toner cartridge tips
---
Toner Cartridge Recyclers and Buy Recycled
Because the number of toner cartridge recycling companies and toner cartridge refurbishers located within New York City and the region is too large to list on this page, we recommend searching the following databases:
Use search terms such as "toner cartridge recycling", "toner cartridge refurbishing", "refurbished toner cartridges", "ink cartridge recycling"
back to top | back to electronics products and services
back to products and services
---
There are hundreds of companies that will help your organization raise funds by collecting cell phones and printer cartridges for recycling. Search the internet for "cartridge + recycling + fundraising".
Association for the Help of Retarded Children 


AHRC NY Cartridge King
83 Maiden Lave
New York, NY 10038
(212)780-2500
Donate your empty ink cartridges to AHRC and buy back a remanufactured one. AHRC NY Cartridge King will teach a group of skilled consumers how to remanufacture toner cartridges of the highest quality. These toner cartridges are university tested and approved for use in all major printer types.
Cartridges for Kids (CFK)


CFK (Cartridges for Kids®) is a recycling program for schools, non-profit organizations, and businesses to raise funds by recycling empty laser and inkjet cartridges, among other items.


Cure Recycling 


Proceeds from recycled cell phones, ink jet and toner cartridgesare donated to CURE Childhood Cancer, a non-profit organization dedicated to conquering childhood cancer through research, education and support of patients and their families.
The Funding Factory 


2101 West 12 Street
Erie, PA 16505
(888) 883-8237
Provides a recycling outlet for toner cartridges and cell phones and fundraising opportunity for schools and nonprofit organizations that collect unwanted cell phones and toner cartridges.
Lifespire, Inc. 


Gotham Plaza
159 East 125 Street
New York, NY 10035
(212) 360-5600
184-10 Jamaica Avenue, 5th Floor
Hollis, NY 11423
(718) 454-2700
2435 Harway Avenue
Brooklyn, NY 11214
(718) 946-6000
930 Willowbrook Road
Staten Island, NY 10314
(718)494-7542
Proceeds from recycled toner cartridges and cell phones go to this non-profit organization providing work opportunities for adults with disabilities.
back to top | back to electronics products and services
back to products and services