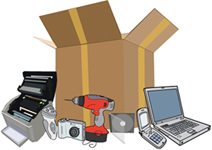 Cell Phone Products and Services



see disclaimer

trade-in programs


recycle for charity


wireless recycling directories
When choosing an electronics recycler, it is important to find out more information about how they process and recycle the materials they collect. Be sure to contact the facility for details about their process and about their end markets.
---
Online Exchanges and Trade-Ins for Cell Phones
E-Cycle




Sell old smart phones and tablets.
ExchangeMyPhone




Sell, donate or recycle old phones to this New York City-based company.
Verizon



The Verizon Wireless Trade-In Program allows you to trade in your used handset or tablet in a convenient and responsible way. They accept devices from all carriers.
YouRenew.com



Sell your used gadgets for reuse or recycling, including cell phones, MP3 players, digital cameras, calculators, laptops, gaming devices, external drives, and tablet e-readers.

back to top | back to electronics products and services
back to products and services
---
There are hundreds of companies that will help your organization raise funds by collecting cell phones and printer cartridges for recycling. Search the internet for "cell phone + recycling + fundraising".
911 Cell Phone Bank



4551 NW 44th Ave
Ocala, FL 34491
(866) 290-7864
Works with law enforcement to provide 911 emergency cell phones and urgent care funds from cell phone recycling. Check their website for drop-off locations

.
Cell Phones for Soldiers


Mail your cell phones, battery chargers, and accessories by printing a pre-paid shipping label, or drop off your items at an AT&T Wireless store or other dropoff location.
Proceeds from recycled items are used to distribute prepaid phone cards to American troops overseas.
Eco-Cell



Eco-Cell partners with organizations to set up recycling collections. Proceeds are donated to the participating organization. See their webiste for a list of participating organizations and drop-off locations.
The Funding Factory



2101 West 12 Street
Erie, PA 16505
(888) 883-8237
Provides a recycling outlet and fundraising opportunity for schools and nonprofit organizations that collect unwanted cell phones and toner cartridges.
Hope Phones


Profits from recycled phones go toward purchasing new cell phones for medical clinics worldwide.
HopeLine from Verizon



HopeLine Program
c/o Verizon Wireless
1776 East Ellsworth Road
Ann Arbor, MI 48108
(800) 426-2790
Donations accepted by mail or at your local Verizon Wireless Communications Stores; they purchase wireless phones and donate airtime for victims of domestic violence.
Sprint Project Connect




Cell phone donations are accepted at Sprint Stores and participating Easter Seals locations. Donations are either resold or recycled, with a portion of proceeds going to Easter Seals and the National Organization on Disability.
back to top | back to electronics products and services
back to products and services
---
Wireless Recycling Directories
Cell Phone Recycling


Cell phone recycling database.
Recycle for Charity


Donate your old cell phone, PDA, digital camera or iPod to be recycled and benefit the charity of your choice.
Recycle Wireless Phones


Locate a local donation center, find a charity you want to support, direct you to a mail-back program or direct you to an on-line auction where you can sell your old mobile phone.
ALSO SEE:
general material exchanges
take it back nyc
electronics recycling
nyc stuff exchange

back to top | back to electronics products and services
back to products and services