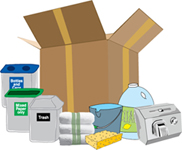 Where to Buy Recycling Bins
Products and Services



see disclaimer
---
The NYC Department of Sanitation does not supply bins or bags for recyclables (or refuse).
For curbside recycling setout, any rigid containers can be used, as long as they are 18-32 gallon capacity, have lids, and are properly labeled. (Cardboard boxes are not acceptable curbside recycling containers.) Plastic bags for recycling must be CLEAR, 13-55 gallon capacity.
There are no specific requirements for receptacles used to collect recyclables inside your building.
You can purchase recycling bins and bags from most hardware stores, home improvement centers, office supply stores, janitorial suppliers, department stores, supermarkets, and drug stores. Or search the internet for "recycling bins".
Rubbermaid Recycling Containers with NYC Lids


Grainger and Rubbermaid worked with DSNY to offer containers and lids in NYC's recycling program colors with slits and holes, labeled with NYC logo.
Agencies and Institutions log in to order recycling containers with NYC lids directly from Grainger through New York State Office of General Services

contracts. Find out more (PDF). See Recycling in Agencies and Institutions for info on what and how to recycle.
Schools can order bins and bags through their standard contracts: custodian engineers through the SDI catalog available via the Department of Education FAMIS

system (or through Grainger's catalog with Under-$10,000 P.O.), principals through the Staples catalog. See Recycling in Schools for more info on school recycling.
Busch Systems International, Inc.


343 Saunders Road
Barrie, Ontario, CANADA L4N 9A3
(800) 565-9931
Easy Sorter


4169 Highway #1 P.O. Box 25
Weymouth, NS CANADA B0W 3T0
(902) 837-5867
Ecolad Corporation


243 West Congress, Suite #350
Detroit, MI 48226
(800) 665-6263
Envyrozone


25 Claireville Drive
Toronto, Ontario, CANADA M9W 5Z7
(866) 362-5400
Fibrex Group, Inc.


3734 Cook Boulevard
Chesapeake, VA 23323
(800) 346-4458
Forms+Surfaces


30 Pine Street
Pittsburgh, PA 15223
(800) 451-0410
Grainger Industrial Supply


(888) 361-8649
(718) 894-1224 agency specialist
Jedstock


424 Lincoln Boulevard
Middlesex, NJ 08846
(732) 356-7888
Kettle Creek Designs


PO Box 47
Kempton, PA 19529
(800) 527-7848
Midpoint International, Inc.


35 Furbacher Lane, Unit 1
Aurora, Ontario, CANADA L4G 6W1
(888) 256-3699 NY sales representative
Recycle Away


PO Box 1757
Brattleboro, VT 05302
(800) 664-5340

RecyclingBin.com


92 Newark Pompton Turnpike
Wayne, NJ 07470
(800) 910-4757
Recy-CAL Supply Co


42597 De Portola Road
Temecula, CA 92592
(800) 927-3873
Rehrig Pacific Company


1738 West 20 Street
Erie, PA 16502
(814) 455-8023
(800) 458-0403
Rubbermaid Commercial Products


Buy online or use Store Locator to find local retailers.
(800) 347-9800
Staples


Office Supplies > Cleaning & Breakroom

> Recycle Bins


(800) 378-2753
Unique Drawer Boxes


9964 Prospect Avenue
Santee, CA 92071
(619) 631-1304
3-bin undercounter recycling system.
Waste Wise Products


1031 McNicoll Avenue, Suite 102
Toronto, ON, CANADA M1W 3W6
(416) 497-7395
Windsor Barrel Works


PO Box 47
Kempton, PA 19529
(800) 527-7848
ALSO SEE:
nyc's recycling requirements
back to top | back to cleaning/custodial products and services |
back to products and services