see disclaimer
Bag or liner usage is not required for this program; in fact we encourage you to dispose of organic material directly into your organics collection bin. However, bags and liners can help keep your collection container clean and increase participation.

certified-compostable bags


organics collection bins
---
See our Organics for Residents page to find online and local stores, wholesalers and manufacturers selling certified-compostable bags.
back to top | back to compost products and services
---
Organics Collection Bins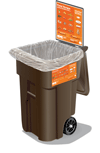 DSNY-Approved Curbside Bins
The color brown is preferred; do not purchase blue or green for organics.
IPL
Orbis
Otto
Rehrig Pacific
Toter
Indoor Organics Collection Bins
Busch Systems

IPL

Orbis

Otto

Rehrig Pacific

Rubbermaid

Sure-Close

Toter