Industrial-Scale Composting Technologies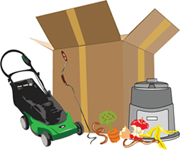 Products and Services



see disclaimer
---
Accelerated Compost, Ltd. 


Medium Scale In-vessel composters, macerators, disposers and dewatering systems.
American Bio Tech 


Large-scale composting facilities: windrows, tunnels, and agitated beds.
Advanced Composting 


Large scale composting technology for animal farms in NC.
Bedminster 


This facility separates mixed solid waste into biodegradable and non-biodegradable materials, and processes biodegradable for energy and/or compost.

FindAComposter.com 


Directory of composting facilities throughout North America.
Green Mountain Technologies 


Large scale in vessel composting systems.

Integrated Veterans Services 


Carries Ecovim, an organic waste dehydrator that reduces the volume of kitchen waste.
Renewable Carbon Management 


Large scale containerized composting systems.
ALSO SEE:
sanitation composting operations

back to compost products and services | back to products and services