see disclaimer
NYC residents are encouraged to bring any of the items noted below to a neighborhood-based food scrap drop-off site. By composting your food scraps, you can do your part to compost more and waste less while contributing to the creation of a useful resource (finished compost) that will help make NYC cleaner and greener.
Use this Google map to see all of NYC's food scrap drop-off sites. Or click on the links below to see composting sites in each borough.

Residents can also bring leaves in clear plastic or brown paper bags to select food scrap drop-off sites. See borough listings for information about food waste drop-off sites that accept leaves.

Bronx


Brooklyn


Manhattan


Queens


Staten Island
---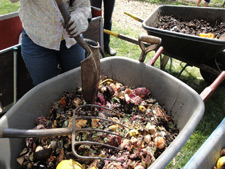 Acceptable Food Scraps
YES:

fruit and vegetable scraps

coffee grounds, filters, & paper tea bags

bread and grains

egg shells

nutshells

corncobs

food-soiled paper towels and napkins

shredded newspaper

sawdust and wood shavings (from untreated wood)

stale beans, flour, and spices

cut or dried flowers

houseplants and potting soil

feathers
NO:
meat or fish scraps

cheese or dairy products

fats, grease, or oil AND oily foods

cat or dog feces; kitty litter

colored or glossy paper

sawdust made from pressure-treated plywood or lumber

coal or charcoal ashes

non-compostable materials such as plastics, metals, or glass

diseased and/or insect-infested houseplants/soil

biodegradable/compostable plastics
(Please be aware that material accepted at neighborhood drop-off sites is different than material accepted through DSNY's curbside collection program. See What Goes in the Organics Bin to find out about organic waste collected through the NYC Organics Collection Program.)
back to top | back to greenmarket collections l back to nyc compost project
---
ALSO SEE:

food waste haulers
composting in nyc
food donations
how to compost
waste prevention tips for food
community-based compost sites