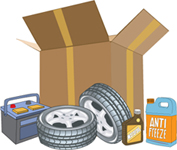 General Automotive Products and Services



see disclaimer
---
Ask your local AutoZone

or Jiffy Lube

to recycle your motor oil and auto batteries.
Key Environmental


311 E. Blackwell St.
Dover, NJ 07801
(800) 821-9741
Recycle antifreeze, recycle oil filters, parts washer rentals, absorbent collection programs.

Maintenance Equipment & Chemicals


625 Simmons Lane
Johnstown, PA 15909
(814) 322-1399
Environmentally safe chemicals.
Spill-Sorb


An absorbent made from 100 percent reclaimed cellulose fibers that absorb liquids, including oils, solvents, water based liquids, coolants, and non-aggressive chemicals on contact.
ALSO SEE:
helpful links about vehicle toxics
back to top | back to auto products and services | back to products and services