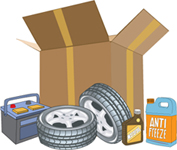 see disclaimer
---
Most organizations also accept light trucks, motorcycles, boats, and other vehicles. Your vehicle does not necessarily need to be in running order to donate it. Contact the organization about pick-up arrangements and documents required.
1800CarDonations


Donations benefit underprivileged children.
(800) 699-7566

American Lung Association


Donations support asthma management and tobacco control programs.
(800) 577-LUNG
Cars To Cure Breast Cancer


Donations benefit the Breast Cancer Research Foundation


Call (855) 450-2873 or fill out the simple donation form

Habitat for Humanity


Your donation benefits a charity of your choice from a list of 400 non-profits. Get a Vehicle Donation Form from www.donationline.com

.
(877) CARS-4-US, ext. 1339
National Kidney Foundation


Donations support early detection, public and professional education, kidney research, and patient advocacy.
(800) 488-CARS
Outreach Center's "Cars for Kids" Donation Program


Donations benefit non-profit that helps underprivileged children of all backgrounds.
3011 Avenue K
Brooklyn, NY 11210
(800) 515-6789
Salvation Army Car Donation Program
Donations help fund local rehabilitation programs.
(888) 999-ARMY
Society of St. Vincent de Paul
191 Joralemon Street #4
Brooklyn, NY 11201
(718) 625-1400

Volunteers of America


Donations benefit children and youth services, senior services, emergency support services, and homeless services, housing services.
340 West 85 Street
New York, NY 10024
(800) 899-0089
Wheels for Wishes


Donations support the Metro New York Chapter of the Make-A-Wish Foundation. Call 1-855-834-9474 or fill out the simple donation form

.
ALSO SEE:
nyc donation outlets
automotive product tips
back to top | back to auto products and services | back to products and services