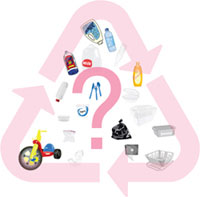 NYC's recycling program does not accept Foam Plastics for recycling.
Expanded polystyrene foam constitutes about ½ of one percent (0.5%) of NYC's waste. The recyclable plastics that DSNY collects comprise about 2.14%. (To put this in perspective, recyclable paper comprises about 23% of NYC's waste)



why nyc doesn't recycle foam plastics


foam lunch trays
ALSO SEE:
about recycling plastics in nyc
wasteless tips for your home: packaging
takeback packaging peanuts
---
Why NYC Doesn't Accept Foam Plastics for Recycling
Foam plastic is very difficult to recycle unless kept very clean and separate from all other types of plastic. For this reason, New York City and most other cities' plastics recycling programs do not collect it with commingled recycling.
Because of the difficulty of recycling expanded polystyrene, there are relatively few plants in the U.S. that will take it. This means that the material must be shipped to distant factories. The transport and processing is expensive, unsustainable, and not environmentally friendly.
Local Law 142 of 2013 was enacted placing restrictions on the sale or use of certain expanded polystyrene items. The City determined that expanded polystyrene single service articles cannot be recycled at the designated recycling processing facility at the South Brooklyn Marine Terminal in a manner that is environmentally effective, economically feasible, and safe for employees. As of July 1st, 2015; no food service establishment, mobile food commissary, or store will be able to use, sell, or offer expanded polystyrene single service food items or loose fill packaging (commonly known as packaging peanuts).
back to top | back to about recycling plastics | back to all about plastics
---
Do not place foam lunch trays in your school's recycling bin for DSNY collection. See what to recycle with Sanitation.
New York City has partnered with 5 other major school districts to completely eliminate foam trays. Learn more.
The NYC Department of Education Sustainability Initiative

has been taking a serious look at how to reduce the waste created by over 830,000 foam lunch trays that are used in NYC public schools every day. Since most schools do not have dishwashing equipment, using durable trays is no longer an option.
Foam Recycling Demonstration Project: The NYC Department of Education briefly hosted a demonstration program in 2009-10 where a private hauler offered to collect and recycle foam lunch trays from a few selected NYC schools. This was not considered a pilot program because it would not be feasible to implement this for all schools, and would put more trucks (diesel fumes, fuel consumption, wear and tear) on city streets. Anyone undertaking a comprehensive life-cycle analysis would not find this promising. In fact, separate collection of lunch trays from this sampling of NYC's public schools proved unviable.
Furthermore, recycling foam lunch trays does nothing to address the concerns of many parents, including SOSnyc.org

, about the health effects of this material when used as compartment plates to serve food to children. See plastics and food.
"Trayless Tuesdays": Beginning in March 2010, the NYC Department of Education introduced Trayless Tuesdays,

substituting paper "boats" for foam trays one day a week. Public schools are automatically using 20% fewer foam trays, diverting 2.4 million polystyrene trays from landfills every month. Remember, only CLEAN paper boats can go in the paper recycling bin; any food-soiled paper, including food-soiled paper "boats", must go in the garbage.
Recycle More, Waste Less: DSNY Bureau of Waste Prevention, Reuse and Recycling recognizes how difficult it is to find an economically acceptable sustainable alternative to foam lunch trays. We encourage schools to focus their enthusiasm instead on recycling the mandated materials (see school recycling) which constitute a substantial percentage of the waste generated by schools, and which already have a collection infrastructure and recycling markets in place.

back to top | back to about recycling plastics | back to all about plastics