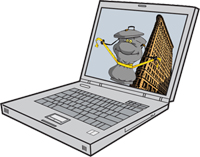 Reducing Retail Waste Helpful Links



see disclaimer
---
National Retail Federation


The National Retail Federation acts as the legislative voice of retailing in Washington. It analyzes proposed laws and regulations, testifies before committees and agencies, lobbies, and educates government about retailing and retailer concerns and priorities. Its subsidiary, the Association for Retail Technology Standards

, was established to ensure that standards set for retail technology will enhance a retailer's ability to cut costs and develop store-level business solutions.
Retail Industry Leaders Association (RILA)


RILA is a full-service trade association providing industry research and education, government advocacy, and a unique forum for its members to establish relationships, solve problems, and work together for the benefit of the consumer and the mass retail industry. The Retail Council of New York State

is a full-service membership trade association that offers a wide range of merchant services.
Retail Technology Buying Consortium (RETEX)


RETEX is the nation's largest not-for-profit, retail buying consortium, utilizing the buying power of 2,300 retail members to receive increased invoice discounts and rebate savings from top providers of retail specific programs and services.
ALSO SEE:
waste prevention in the retail industry

back to top | back to reducing workplace waste helpful links | back to helpful links