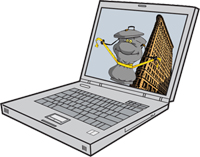 Reducing Restaurant Waste Helpful Links



see disclaimer
---
Energy Star for Restaurants


A voluntary partnership between United States Environmental Protection Agency (USEPA) and the United States Department of Energy (USDOE), Energy Star for Restaurants offers restaurant-specific energy management strategies, tools, and resources.
Green Restaurant Association (GRA)


This not-for-profit organization works to make restaurants more efficient through the incorporation of environmentally friendly business and purchasing practices.
Guidelines for Preventing Grease Discharges into Sewers


New York City Department of Environmental Protection (NYCDEP)'s Guidelines for Preventing Grease Discharges into Sewers details how businesses that disposes of grease, fats, or oil should have a grease interceptor, to prevent these materials from entering and clogging sewer lines.
National Restaurant Association


As a legislative advocate for the restaurant industry this association provides educational and promotional support, among other services to its members.
New York State Restaurant Association (NYSRA)


NYSRA is a trade association affiliated with the National Restaurant Association that provides similar services on a local level.
ALSO SEE:
waste prevention in the restaurant sector
back to top | back to reducing workplace waste helpful links | back to helpful links