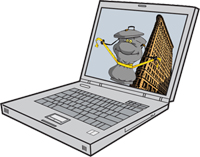 Reducing Business Waste Helpful Links



see disclaimer
---
Business Junk Mail Reduction Project


Visit the National Waste Prevention Coalition (NWPC) Business Junk Mail Reduction Project to find an extensive package of resources to help businesses and agencies reduce the amount of unwanted mail they receive.
Coalition for Resource Recovery


Global Green USA's Coalition for Resource Recovery is a membership organization focused on helping businesses increase profits through waste diversion technologies, research, waste reduction programs, and conducting pilots in New York City.
GreenBiz.com


A website run by Greener World Media, Inc., GreenBiz.com offers a variety of news articles, resources, and tools for businesses interested in improving their environmental performance.
ALSO SEE:
waste less at work
get rid of stuff
recycling in business
packaging helpful links
back to top | back to reducing workplace waste helpoful links | back to helpful links