Reducing Local Government Waste Helpful Links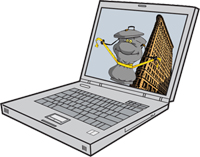 see disclaimer
---
Local Government Environmental Assistance Network (LGEAN)


Operated by the International City/County Management Association, LGEAN offers a comprehensive guide to pollution prevention.
WasteWise


United States Environmental Protection Agency's website offers extensive information and resources. USEPA's WasteWise program is a free, voluntary program that helps organizations to reduce waste. The USEPA Reduce and Reuse

page provides facts and figures, benefits, and resources to assist in reducing municipal solid waste.
ALSO SEE:
waste less at work
get rid of stuff
back to top | back to reducing workplace waste helpful links | back to helpful links