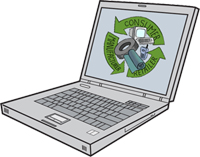 Packaging and Product Design Helpful Links



see disclaimer
---
Carpet America Recovery Effort (CARE) 


CARE is a voluntary initiative between members of the carpet industry and government to prevent carpet from burdening landfills. CARE focuses on developing carpet reclamation and recycling methods.
Corporate Partnerships 


Check out the reports of Corporate Partnerships, a project of the Environmental Defense Fund (EDF), to learn about preferred packaging practices and buying recycled-content paperboard and recycled coated sheet paper.
Designing for the Environment 


Pacific Northwest Pollution Prevention Resource Center (PPRC) provides information and case studies on the concept of designing for the environment.
Electronic Product Environmental Assessment Tool (EPEAT) 


The International Sustainable Development Foundation implements the Green Electronics Council (GEC) 

which encourages sustainable design of electronic equipment. EPEAT is a procurement tool that helps purchasers to compare desktop computers, notebooks, and monitors based on eight environmental performance criteria, ranking products as bronze, silver, or gold.
Hewlett-Packard Design For Environment 


HP's Design For Environment has incorporated design improvements that facilitate disassembly and reduce the amount of protective packaging required during shipping.
IBM Product Stewardship Policies 


IBM has developed product stewardship policies and protective product packaging guidelines 

.
National Electronic Product Stewardship Initiative (NEPSI) 


NEPSI is an association of stakeholders from the electronics industry, environmental advocacy community, and government agencies from across the United States who are working to address electronics-related solid waste issues through different product stewardship initiatives.
Stonyfield Farm 


This yogurt company has worked with the University of Michigan's Center for Sustainable Systems to improve the environmental performance of their packaging 

.
Sustainable Packaging Coalition 


The Sustainable Packaging Coalition (SPC) is an industry working group focused on research, outreach and advocacy on sustainable packaging systems. SPC has developed a "How2Recycle" label to help consumers understand what products and packaging can and cannot be recycled. SPC is a project of the nonprofit sustainability institute, GreenBlue 

.
Terracycle 


This recycled product company eliminates the idea of waste through reusing old packaging for new products.
ALSO SEE:
product stewardship
product packaging
business waste helpful links
manufacturing helpful links
back to top | back to product stewardship helpful links | back to helpful links