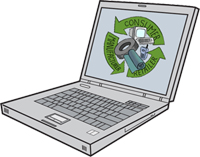 Product Stewardship General Helpful Links



see disclaimer
---
Call2Recycle


Call2Recycle is a free rechargeable battery and cell phone collection program that is operated by the Rechargeable Battery Recycling Corporation (RBRC), a non-profit organization. Call2Recycle's study, Thinking Beyond the Recycling Bin 

, found that in many cases, take-back programs designed to collect multiple items need to be re-thought in order to be effective, and that many take-back programs underperform due to serious design flaws.
Minnesota Pollution Control Agency (MPCA)


MPCA provides extensive information on product stewardship

, including international product stewardship efforts, a suggested legislative policy proposal, and some case studies.
New York Product Stewardship Council (NYPSC)


NYPSC is dedicated to shifting New York's product waste management system from one focused on government funded and ratepayer financed waste diversion to one that relies on Extended Producer Responsibility (EPR), or Product Stewardship, in order to reduce public costs and drive improvements in product design that promote environmental sustainability.
Northwest Product Stewardship Council (NWPSC)


NWPSC is a group of government organizations, businesses, and nonprofit groups that are endeavoring to integrate product stewardship into the policy and economic structures of the Pacific Northwest. Products and/or sectors the Council is targeting include electronics, chemicals

, pharmaceuticals

, paint

, mercury

, and tires

. See their comprehensive educational video

explaining product stewardship.
Pacific Northwest Pollution Prevention Resource Center (PPRC)


PPRC provides a list of take-back programs

, tools for manufacturers, and selected case studies of companies that have implemented various product stewardship strategies into their manufacturing process.
Product Policy Institute (PPI)


PPI is a North American not-for-profit education and technical assistance organization, whose mission is to prevent waste and to promote sustainable production and consumption practices through good public policy and governance.
Product Stewardship Institute (PSI)


PSI at the University of Massachusetts at Lowell assists state and local government agencies in establishing cooperative agreements with industry and in developing other initiatives that reduce the health and environmental impacts from consumer products.
United States Environmental Protection Agency (USEPA)


USEPA highlights the latest developments in Product Stewardship

, both in the United States and abroad, and provides numerous links to other sources of information, including some printed materials.
ALSO SEE:
helpful links about purchasing
back to top | back to product stewardship helpful links | back to helpful links