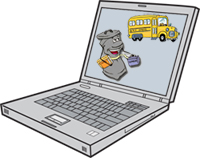 Waste Prevention for Educators Helpful Links



see disclaimer
---
Energy Hog


The United States Department of Energy's interactive Energy Hog website includes a teacher's guide and a take home scavenger hunt, as well as links to other resources on energy conservation.
Household Waste Management


all ages, students, teachers
Sponsored by Purdue University and the EPA Region 5, this site is a valuable resource guide for reducing waste and hazardous toxins in the home. The site includes Use It Again, Sam providing tips for reusing common household items, and Rest in Peace: Safe Disposal, a guide to household waste disposal. The Green Workout is a quiz for students K–12 that provides surveys, projects, and games.
National Waste Prevention Coalition


all ages, teachers
The goals of the National Waste Prevention Coalition (NWPC) are to prevent waste from being created and to reduce the use of resources. Its membership consists of people in the solid waste management fields who focus on areas such as junk mail reduction, packaging, responsible consumption, and dry cleaning waste prevention. NWPC offers a Waste Prevention Resource Center page with dozens of waste prevention sites.
School Waste Management and Assistance


all ages, students, teachers
Sponsored by the California Integrated Waste Management Board, the site offers valuable information for people around the country. Lesson plans for teachers include Closing the Loop and The Worm Guide. The students' page, Kids' Stuff, has a coloring book—also available in Spanish. The site also provides an extensive Schools Publications listing, and state and federal funding sources.
ALSO SEE:
helpful links about reducing household waste
waste less in nyc
info for schools

back to top | back to teachers & kids helpful links  | back to helpful links