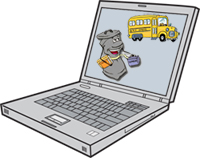 Recycling Education Helpful Links



see disclaimer
---
Follow links below to find more resources for teachers and kids on recycling and solid waste management.
American Forest and Paper Association


all ages, students, teachers
American Forest and Paper Association (AF&PA) members manufacture over 80% of the paper, wood, and forest products produced in the United States. The website provides a wide variety of descriptive and colorful material for teachers and students, including lesson plans, activities, videos, guides for setting up school recycling, latest paper recovery rates, and information on AF&PA's annual Recycling Awards.
Can Manufacturers Institute


all ages, teachers
This site provides extensive and accessible information about can recycling, with a detailed history, fact sheets, timelines, and a step-by-step explanation of how a can is made. It also provides games, curriculum, a video on how a can is made, and links to other relevant sites.
Cornell Waste Management Institute


all ages, students, teachers
Written and audio-visual materials produced by CWMI to help people make informed decisions about managing wastes.
Federal Resources for Educational Excellence


all ages, teachers
Federal Resources for Educational Excellence (FREE) is a compendium of government-supported educational resources. Each search entry provides a description of the item, grade levels, subject and key words, audience, form, resource type (e.g., lesson plan, activity), publisher, and a link to the full text of the item. Users can find a wide range of materials relating to solid waste issues that are pertinent to most curricular areas.
Imagination Factory


all ages, students
This fun and stimulating website provides innovative ways to recycle materials by creating art projects. Research and Development provides arts, environmental, and general information links teachers can access to find other creative art projects. Lessons/Activities is updated weekly with a new project for classroom use. This site features many past art projects and ideas for new ones.
NAPCOR Kids Corner - PET Plastic


This page provides activities for kids who want to learn more about PET plastic recycling and what they can do in their own communities, with interesting facts and statistics about recycling and the environment, a recycling glossary, and a word search activity with terms that refer to recycled PET plastic.
New York State Department of Environmental Conservation (NYSDEC)
Waste Reduction, Reuse, and Recycling


See the list of waste reduction, reuse, and recycling pamphlets available from the NYS Department of Environmental Conservation. Visit their Green Schools

, Teacher Information

, and Poster Contests

pages.
Project Learning Tree


all ages, teachers
Project Learning Tree (PLT) is an environmental education site, providing activities that stimulate creativity, originality, and flexibility, and encourage students to become responsible and productive. PLT offers workshops and training for educators in the effective use of their resources. PLT, a program of the American Forest Foundation, is one of the most widely used environmental education programs in the United States and abroad.
Recycle Guys!


K-6, students, teachers
The South Carolina Department of Health and Environmental Control provides this fun, colorful site that features the 7 "Recycle Guys" who teach children about recycling via games, artwork, music, and videos. Teachers have access to links to lesson plans.
Recycle City, EPA


K-6, students
Recycle City is the name of the town in this interactive and educational game hosted by EPA Region 9. Kids can click on different parts of the town to learn detailed information about aspects of recycling, reuse, and waste reduction. Students are responsible for managing and cleaning up Dumptown to turn it into Recycle City. All of the games and locations have been designed to enable a teacher to match different goals with lessons currently being taught.
Recycling Room for Students and Teachers


all ages, students, teachers
The Learning Center and Teachers Resources in Fort Collins, Colorado contain extensive resources for teachers, and a lot of information about recycling for students. Kids can tour The Smart House and shop at the Recycled Mall. Fun Web Sites takes students to different sites where they can have fun as they learn about recycling and pollution prevention.
Ring Leader Recycling Program


all ages, students, teachers
The Ring Leader Recycling Program encourages collecting recyclable six-pack rings as a school project. More than 8,500 schools participate in the program, which encourages students to learn about and participate in closed-loop recycling. Teachers join the leader program and receive the free recycling kit. The Quest of the Ring Leaders is a cyber-adventure educational game. This site also provides educational resources, a newsletter, and lesson plans.
Recycling Starts With You!


3-6th grade students, teachers
Developed by Scholastic

in conjunction with the American Forest and Paper Association

, this program includes a mini-poster featuring standards-based math, science, and language arts lessons about paper recycling.
Steel Recycling Institute


all ages, students, teachers
Steel Recycling Institute (SRI) is an industry association that promotes and sustains the recycling of all steel products, working to educate businesses, the solid waste industry, government, and consumers about the benefits of steel's infinite recycling circle. The sites for students include games, a comprehensive facts section, and hints for home recycling.
United States Environmental Protection Agency (USEPA) Educational Materials


USEPA's Educational Materials provides a wealth of materials for teachers, kids, students, and researchers to develop an increased knowledge of solid waste issues. Check out their Environmental Kids Club

.

ALSO SEE:
helpful links about recycling
recycling in nyc
resources for research
info for schools
back to top | back to teachers & kids helpful links | back to helpful links