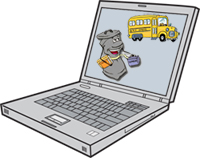 Environmental Education Helpful Links



see disclaimer
---
California Environmental Education Interagency Network


all ages, students, teachers
California's "Education and the Environment" Initiative provides information and links to resources for environmental education, with specific materials in natural science, social science, English language arts, visual and performing arts, and other subjects. Materials for educators include guides to interactive computer games, lesson plans, and many activity ideas.
Chalkboard


all ages, teachers
Up-to-date information on free educational resources (lesson plans, materials, grants, tours, workshops, etc.) offered by corporations. Categories include Things for Class, Services, Awards, and Jobs.
Earth 911 Students


all ages, students, teachers
Earth 911 provides information for homes and communities on all aspects of the environment. Information from all 50 states and thousands of community hotlines come together for users to access through one toll-free phone call (1-800-CLEANUP) or one website visit. Student pages are separated by grade level and include links to informative articles. Please note: the Earth 911 database is not able to accommodate the unique political structure of NYC (one municipality comprised of 5 counties); to see what and how to recycle in NYC, go to www.nyc.gov/recycle or call 311.
Earth Day


all ages, students, teachers
Award-winning educators' network, with over 300 standard-based lessons, school greening tips, and grants for teachers.
Ecohealth Students Guide


This site examines the changes that are transforming Earth and what they can mean for our health. An educational complement to the Journey to Planet Earth series on PBS.
EE-Link: Environmental Education on the Internet


all ages, students, teachers
The North American Association For Environmental Education (NAAEE) website offers over 5,000 links with resources for professional development, climate change, global warming, lesson plans, endangered species, national and international events, jobs, grants, activities for the classroom, and more.
EERE: Kids Saving Energy


K-12, students, teachers
From the U.S. Department of Energy: games, tips and facts for students about renewable energy and saving energy. Over 350 lesson plans for teachers.
EnviroLink


all ages, teachers
EnviroLink is an extensive clearinghouse of environmental resources available on the Internet. This accessible site contains a wealth of information arranged in alphabetical listings and by topic. The Educational Resources section allows you to search by a variety of criteria including grade level, curricula, student resources, online classes, training, and much more. It is one of the most complete resource guides on the web.
EPA Environmental Kids Club


all ages, students, teachers
Focusing on different aspects of the environment (air, water, waste, plants & animals), children and teachers will find links to many educational activities, art projects, science projects, and games. There are also sections specifically for middle school and high school students.
ERIC Clearinghouse on Elementary and Early Childhood Education


K-6, students, teachers
The Educational Resources Information Center (ERIC) is a national information system designed to be searched for digests, bulletins, journals, bookstores, lessons, links, organizations, announcements, and conferences.
Family Communications, Inc.


K-6
Caring for the Environment is a classic video informing young children about the environment in a way they can understand. It includes a letter from Fred Rogers, suggestions on how to use the video effectively with preschoolers, various activities, lyrics of a song from the program, a book list, and other informative tips. 30 min., grades K–5.
Greening Education


The New York State Association for Reduction, Reuse & Recycling (NYSAR3) website has a page devoted to greening education, which describes their seed money grants to schools interested in participating in the "Go Green Initiative."
Greenworks.tv


In conjunction with GreenTreks, Inc., GreenWorks.tv has links to cool online activities for kids and environmental education resources for teachers.
Kids Be Green


K-6, students, teachers
Games, coloring books, how-to sheets, and more fun activities for children to learn about the 3 R's—Reduce, Reuse, Recycle.
Kids for Saving Earth


all ages, students, teachers
KSE Worldwide provides action-oriented, educational materials for kids, families, groups, classrooms, and schools. Available are Education Guides (PreK–1) and Action Guides (grades 1–2). The Earthworks Central Kit contains a video; activities about land, air, and all living things; posters; and a booklet for kids on how to teach grownups to recycle and produce less trash. Sheet music and CDs are also available.
National Environmental Educators Foundation


NEEF was chartered by US Congress in 1990 as a complementary organization to the USEPA, extending its ability to foster environmental literacy and to access private funding. Programs include Classroom Earth

and EE Week.

National Institute of Environmental Health Science Kids' Page


all ages, students, teachers
This website has games, surprises, riddles, puzzles, and science projects that help students learn more about the environment. NIEHS Cool Links for Fun and Education provides a list of resources that allows students to choose Great Science Sites or Homework and Science Project Help. This site is also available in Spanish.
National Science Teachers Association


all ages, teachers
The main focus of this site is to provide teachers with access to high-quality educational materials, various press releases, conference information, events, resources, suppliers, and links.
National Wildlife Federation


all ages
This easy-to-use, fun, and colorful site is full of informative resources and links for kids and adults. It includes sections such as Take Action, Environmental Education, In Print & On Film, Get Outdoors, and Kids Zone.
NYC Department of Environmental Protection (NYCDEP)
Water Conservation for Teachers and Students


NYCDEP offers educational resources on water conservation for teachers and students, including teacher workshops, presentations, guided field trips, and a variety of classroom materials, as well as an annual poetry contest.
New York State Department of Environmental Conservation


all ages, students, teachers
Besides many resources about the environment, DEC provides unique links to information on environmental summer camps, teachers workshops, and tips on becoming a "green school".
New York Times Daily Lesson Plan


all ages, students, teachers
Although designed primarily for older students, this site offers comprehensive in-depth study plans—many of which can be adapted to work with elementary students—that refer to specific articles on a variety of topics. The activities include questions for discussion, assessment, vocabulary, extension activities, related articles, interdisciplinary connections, website information and links, and national content standards.
Newton's Apple


all ages, students, teachers
This site lists activity guides that accompany the popular PBS series. The classroom exercises available for downloading include challenging questions, a list of vocabulary words, additional sources of information, materials needed for the exercise, and instructions on their use in the curriculum. The topics on solid waste management include garbage, recycling, and hazardous materials.
NRDC Green Squad


Teaches kids about the relationship between their schools and environmental and health issues. The site is designed primarily for students in fifth through eighth grade, but also offers information for younger and older students as well as parents and teachers.
PBS Kids Help the Environment


all ages, students, parents
Students can learn how to clean up public spaces, create new animal habitats, save our natural resources, and much more. Great for project and volunteering ideas.
Pennsylvania's Department of Environmental Protection


all ages, students, teachers
Includes resources, environmental news updates, event information, online discussion tools, a students page, a teachers page, and additional links.
Planetpals


K-8, students, teachers
This voluminous site contains resources for kids and adults, including suggestions on how to use Planetpals as a teaching tool, with children's projects and craft ideas.
Scholastic.com Recycling Starts With You!


3-12, students
Students learn about the importance of paper recycling.
Scholastic Classroom


The Paper Industry Association Council

offers Scholastic Classroom resources with illustrations, tools for teachers including interesting fact sheets for kids, a history of recycling, and vocabulary.
United Nations Environment Programme (UNEP)


UNEP offers information, games, and contests for children and youth. Enter your school's pledge to plant a tree in the Plant for the Planet - Billion Tree Campaign

.
ALSO SEE:
info for schools
field trips and tours
environmental organizations in nyc
back to top | back to teachers & kids helpful links | back to helpful links