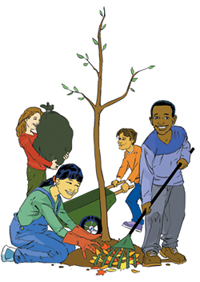 Try these ideas for your science, art, or language arts class; environmental club; or Team Up to Clean Up contest entry. It's easy to integrate classroom work with these hands-on learning projects. Don't forget to take photos before, during, and after your activity.
Note: Do not encourage students to undertake tasks that are normally the responsibility of paid custodial or maintenance staff.
Take Advantage of Sanitation's Volunteer Clean Up Program (pdf)


Contact DSNY's Community Liaison Unit at (646) 885-DSNY at least four weeks before the clean-up. DSNY will loan you equipment such as brooms, shovels, and rakes; provide you with work gloves and bags to collect trash and recyclables; and coordinate with the local Sanitation district for the collection of bagged recyclables and debris.
Graffiti Removal
Adopt a public area or get permission from a local building owner and remove unsightly graffiti from walls, benches, tables, etc. Commit to keeping the area graffiti-free, or paint a cheerful mural. Learn more about Graffiti Free NYC 

.
Wall Mural
Students design and create murals for large interior or exterior walls of the school. Solicit lesson plans from teachers in all subject areas. Include contributions and efforts from all grades and classes, parents and teachers. Research and write essays describing themes, ideas, process, and results.
School Gardens and Composting Projects
Gardens offer applied learning opportunities for multi-discipline lesson plans. The Mayor's Grow to Learn: Citywide School Gardens Initiative 

 can help with mini-grants, technical assistance, and curriculum guides. Work with the NYC Compost Project to learn how to incorporate composting in your school garden.
Food Garden
A food garden can supplement students' nutritional needs while serving as a learning tool. Study the benefits of organic gardening. Donate extra produce to a local shelter. Learn about school gardens on these websites: garden to school cafe 

 www.kidsgardening.com 

and www.edibleschoolyard.org.

Community Garden
Design, plant, and maintain a garden on school grounds or local public area. Partner with an existing community garden.

Incorporate literacy, art, math, science, and horticultural lesson plans. Study native trees. Grow heirloom species, plants that attract beneficial insects, or try other unique gardens. Don't forget to compost plant cuttings.
School Composting
Document your indoor or outdoor school compost project to be eligible for the NYC Compost Project's Golden Shovel Award. For composting information, see how to compost or contact the NYC Compost Project nearest you.
Parks Department Volunteers
Apply to become Parks Department volunteers 

at a local playground or park. Clean, prepare the soil, and plant flowers under the guidance of Parks Department personnel.
Plant Trees with MillionTreesNYC
Plant trees, sign up for a street tree stewardship program, or educate your family, friends, and neighbors about the importance of New York City's urban forest and make sure that it is healthy and growing. Learn more at: www.milliontreesnyc.org 

Team Up with Other Schools
Work with another school that shares your campus or neighborhood to clean up or beautify an area in your community.
Prepare a Proposal
Come up with a detailed action plan to reclaim open space in your neighborhood or school grounds. Analyze existing conditions and identify the resources needed to make improvements. Design a comprehensive solution. Map the area and take photos; research potential partners; write essays and persuasive letters to get needed resources and support; calculate a budget; test the soil and select suitable plants for the site; draw pictures of intended improvements.
Build Community Connections
Teams of students survey local residents, organizations, and businesses for cleanup and beautification recommendations. Analyze the information, then select an appropriate project to undertake and complete. Research laws and organizations that can help in your efforts. Seek donations for your cleanup activities by writing letters to local businesses.
Clean It Up and Count It Up
Apply the disciplines of an archeological dig to your cleanup project. Locate an area within the community that needs cleaning up. Similar to an archeological dig, students measure, map, and grid the area that they will clean up. Bring along notebooks to observe and record the types and amounts of waste they remove. Back in the classroom, students display their findings in charts and graphs, along with before and after photos.
Enter Your School's Project in the Golden Apple Awards
TrashMasters! Team Up to Clean Up rewards cash prizes to schools that conceive, design, and implement innovative cleanup, beautification, or reclamation projects in their boroughs. Show us your school's community cleanups, reclamation, or gardening project! 
ALSO SEE
info for schools

back to top | back to fun pages | back to team up to clean up