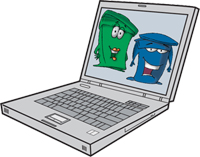 see disclaimer

school recycling setup


workplace recycling setup


home recycling setup
ALSO SEE
recycling in nyc
nyc recycling law
---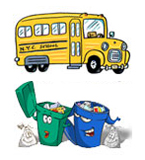 School Recycling Setup
NYC DOE Chancellor's Regulations on Recycling and Waste Reduction 

(pdf)
Schools are required by NYC law to recycle. The NYC Dept of Education Chancellor's Regulations A-850 detailing how public schools are to implement recycling were first issued soon after recycling became mandatory in NYC, and are periodically updated to describe DOE's current operational and reporting requirements for schools.
NYC DOE Sustainability Initiative 


The NYC Department of Education's Division of School Facilities 

devotes a section of their website to the NYC DOE Sustainability Initiative 

describing energy management, recycling, and waste prevention mandates and initiatives.
NYC DOE School Recycling and Waste Reduction Plan template 

(doc)
Sustainability Coordinators and their principals should consult with representatives from all sectors of the school, including food services and custodial staff, and wherever possible, parents and students, in developing and implementing the school recycling and waste reduction plan.
UFT Green Schools Committee 


Started by teachers interesting in establishing sustainable practices in their schools, the UFT Green Schools Committee 

offers periodic workshops on a variety of issues including composting, school gardens, energy efficiency, reducing styrofoam lunchtray use, sustainable school food, green roofs, and environmental education; and a listserv for sharing information and upcoming events.
ALSO SEE:
golden apple awards: super recyclers
recycling in schools
info for schools
back to top | back to recycling helpful links | back to links for teachers & kids | back to helpful links
---
Workplace Recycling Setup
How to Implement an Office Recycling Program 


Midpoint International, Inc 

, a Canadian manufacturer of recycling containers made from recycled materials, has an online guide explaining How to Implement Office Recycling Programs and helpful Recycling Slogans, Catch-Phrases & Facts 

.
Recycling In the Workplace 


The American Forest and Paper Association's website www.paperrecycles.org 

offers a guide to starting an office recycling program 

(pdf). You can create and print out their personalized recycling sign or poster 

, tailored to your own workplace paper recycling program.
Waste Prevention and Recycling at the Office 


The State of California includes this quick guide for waste-conscious businesses on their webpage.
ALSO SEE:
recycling in nyc
get rid of stuff
back to top | back to recycling helpful links | back to helpful links
---
Home Recycling Setup
Natural Resources Defense Council (NRDC)


NRDC NYC's webpage on NYC's Residential Recycling Program includes information and helpful tips.
ALSO SEE:
what and how to recycle
info for residents
info for apartment building managers
back to top | back to recycling helpful links | back to helpful links