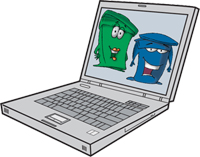 General Recycling Helpful Links



see disclaimer
---
America Recycles Day


America Recycles Day is hosted by the National Recycling Coalition and held every November.
Earth 911


This environmental guide consolidates environmental resources, such as local recycling sites and pollution prevention, to help protect our environment.
Garbage Land: On the Secret Trail of Trash


To find out what happens to the things Americans throw away, read this book by freelance writer Elizabeth Royte.
Institute for Local Self-Reliance (ILSR)


ILSR's project Waste to Wealth offers research information, policy development, technical assistance, education, promotion, and training on waste reduction and recycling-based economic development. The site highlights 50 examples of cutting-edge recycling programs. ILSR also offers numerous recycling publications.
Internet Consumer Recycling Guide


Created by Evergreen Industries and Obviously Enterprises, this guide includes a guide to recycling and reusing various items such as cell phones, eyeglasses, packing "peanuts," computers, and diskettes. The site also links to recycling factoids and U.S. recyclable commodity prices.
Local Recycling Coordinators


See the New York State Department of Environmental Conservation (NYSDEC) list of Local Recycling Coordinators for a list of local recycling coordinators and DEC recycling contacts in other counties of New York State.
National Recycling Coalition


The National Recycling Coalition provides technical education, disseminates public information on selected recycling issues, shapes public and private policy on recycling, and operates programs that promote recycling markets and encourage economic development. Their partnership project, Recycling Magazines Is Excellent (ReMix)

, is a national public education campaign aimed at increasing residential recycling of magazines and catalogs.
Recycling Market Development


Recycling Market Development info from the U.S. Environmental Protection Agency for state and local officials. Also includes sources of technical and financial assistance for recycling businesses, and information on the economic benefits of recycling.
RecyclingMarkets.net


Maintains a database of recyclers for many products.
Recycler's World


Operates The Recycler's Exchange, a free worldwide information exchange for companies and individuals to buy, sell, or trade commodities, materials, goods, and relevant services.
Setting Up & Operating Electronics Recycling/Reuse Programs:
A Manual for Municipalities & Counties


The Northeast Recycling Council

seeks to minimize the amount of materials requiring disposal by promoting the environmental and economic benefits of recycling and source reduction in the Northeast. The website offers extensive publications and project research. Also check out their comprehensive manual, Setting Up & Operating Electronics Recycling/Reuse Programs: A Manual for Municipalities & Counties

.
United Nations Environment Programme


For other countries, the United Nations Environment Programme maintains a list of Ministries of Environment

, the UNEP National Committee

contacts, and other environmental officials.
United States Environmental Protection Agency (USEPA) Recycling Page


USEPA's Recycling page offers explanations about the recycling process, facts and figures about recycling, and additional resources for starting a recycling program. Check out the USEPA website

for numerous publications

that provide information about recycling.
ALSO SEE:
recycling in nyc
back to top | back to recycling helpful links | back to helpful links