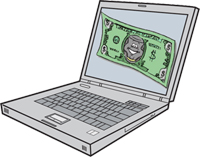 Helpful Links about Purchasing for Consumers



see disclaimer 
---
Appliance411 Information Center 


This consumer information website provides information about purchasing and repairing appliances. The site discusses warranties, purchase tips, and brands. It also discusses myths about appliances, and maintenance tips to prolong the life of your appliance.
Consumer Reports online 


Visit Consumer Reports online or read Consumer Reports magazine to learn more about the strengths and weaknesses of an appliance before purchasing it. Some areas of the site require a paid subscription.
ENERGY STAR® 


United States Environmental Protection Agency (USEPA) created ENERGY STAR®, a guide to energy efficiency and energy-efficient products. Visit the ENERGY STAR® website for information on the purchasing and procurement  of energy-efficient products.
EPEAT Standards 


EPEAT is a global registry for greener electronics which combines comprehensive, objective criteria for design, production, energy and materials use and recycling with ongoing independent verification of manufacturer claims after registration.
GreenSeal Certified

 
The GreenSeal identifies products, services and companies that have acheived life cycle-based sustainability standards.


How to Buy Recycled Products 


The Connecticut Department of Environmental Protection provides tips on How to Buy Recycled Products.
List of Web Resources for Recycled Products 


New Jersey Department of Environmental Protection has a list of web resources for recycled products.
OIKOS Green Product Information 


Links to vendors.
Recycled Products Guide (RPG) 


The Pennsylvania Department of Environmental Protection offers a comprehensive Recycled Products Guide (RPG).
Responsible Purchasing Network (RPN) 


RPN is an international network of buyers dedicated to advising consumers about socially responsible and environmentally sustainable purchasing, including third party certifications. purchasing guides,  and eco-labels.
StopWaste.Org 


This agency combining the Alameda County Waste Management Authority and the Alameda County Source Reduction and Recycling Board offers a "Purchasing Wizard" that provides information on buying recycled/green products.
ALSO SEE:
buy recycled
energy efficiency links
recycled content products 
back to top | back to purchasing helpful links | back to helpful links