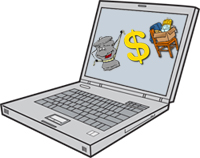 see disclaimer
---
Community Scale Composting Grants


Manhattan Borough President Scott M. Stringer, the Manhattan Solid Waste Advisory Board, and the Citizens Committee for New York City offer small grants of $100 to $750 to community groups to start or expand neighborhood composting programs. Groups eligible for funding include community associations, community gardens, friends of park groups, housing development organizations, nonprofits, public schools, colleges and universities, hospitals, and private businesses. For 2013, proposals must be submitted by March 22 and awards will be announced by April 22. For application materials, visit the Citizens Committee for NYC.

 Any questions, contact Sabine Bernards at
212-822-9578 or sbernards@citizensnyc.org.

NAAEE Multi-Site Grant Search 


database and resources
The North American Association For Environmental Education (NAAEE)

website offers comprehensive how-to information and a database of grants available for environmental projects and education. This voluminous website also provides environmental job listings and numerous resources for educators and organizations.

NYSDEC Grants 


New York State Department of Environmental Conservation (NYSDEC)

offers numerous competitive grants for environmental protection and improvement for community organizations, nonprofit organizations, municipalities, and others in the areas of Environmental Justice, Solid and Hazardous Waste (including recycling and e-waste collections), Environmental CleanUp, Water Protection, Wildlife Protection, Land and Forest Protection, through the Environmental Protection Fund.
NYSAR3 School Recycling/Waste Reduction Grant Program 


New York State Association for Reduction, Reuse & Recycling (NYSAR3)

 provides up to $500 seed, or start-up, money for recycling/waste reduction programs in public and private schools, in support of the NYS Green Schools Initiative. There are two grant cycles, spring and fall. Download Spring 2013 application (pdf); deadline Friday, March 15, 2013.
NYC Department of Education grant listings 


This webpage on the NYC Department of Education 

website lists grants available for NYC teachers and schools.
Returnable Grant Fund 


The Mayor's Office of Contract Services 

and the Fund for the City of New York 

offer a revolving loan program for nonprofits receiving City funds to assist them during short-term cash flow difficulties: Download application.

USEPA Environmental Education Grants 


EPA's Environmental Education Division (EED), Office of Children's Health Protection and Environmental Education, supports environmental education projects that enhance the public's awareness, knowledge, and skills to help people make informed decisions that affect environmental quality.
USEPA Region 2 Grants 


Numerous grants and cooperative agreements are provided by our local Region 2 Environmental Protection Agency 

to finance programs or a particular project or activity that aims to safeguard the natural environment and protect human health.

ALSO SEE:
dsny bwprr: golden apple awards for K-12 schools
back to top | back to incentives and assistance helpful links | back to helpful links