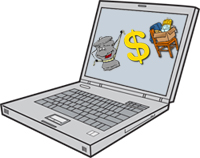 see disclaimer
The following organizations and reuse programs help nonprofit organizations and schools get funding or donations of new and used goods.
---
NY Stuff Exchange 


To solicit donations of used goods from the public, list your organization on NYC Stuff Exchange 

or post your donation drive on the NYC Stuff Exchange Calendar of Events.

This website is developed and managed by DSNY BWPRR.
NYC WasteMatch 


This free materials exchange service is sponsored by DSNY BWPRR. NYC WasteMatch facilitates the exchange of unwanted, surplus, or used supplies, furniture, and equipment from businesses to entities in need of them. Materials are available for free or a low cost.
Materials for the Arts 


computers, furniture, art supplies, more
Materials for the Arts provides thousands of NYC's arts and cultural organizations, public schools, and community arts programs with the supplies they need. Materials are gathered from companies and individuals that no longer need them and redistributed to the artists and educators that do. The program is sponsored by DSNY BWPRR, NYC Department of Cultural Affairs, and NYC Department of Education.
State Agencies for Surplus Property (SASP) 


The U.S. General Services Administration describes eligibility criteria enabling organizations to receive donations of federal property through SASP. SASPs are state-run organizations that coordinate the federal program for the donation of federal surplus property to public, tax-supported entities and eligible private nonprofit tax-exempt organizations.
Computers for Learning (CFL) 


The CFL program, administered by the U.S. General Services Administration, allows computers and related peripheral equipment excess to be transferred to eligible schools and educational nonprofits.
NYC Department of Education donation links 


The NYC Department of Education maintains this list of sources where schools can find donated goods or funding.
Donors Choose 


Organizations and schools submit project proposals for materials or experiences they need; concerned individuals choose specific projects to fund.
IRN Surplus Property 


International Recycling Network matches surplus of all sorts with charitable and relief organizations for disaster relief, group homes and halfway houses, homeless families, or economic development in the U.S. and overseas. IRN handles all the logistics: moving, loading, shipping, documentation.
National Cristina Foundation 


computer equipment
Distributes refurbished used computer equipment to organizations that will use the equipment for purposes related to training, job development, educational programs, and other related projects that focus directly on improving the lives of people with disabilities, students at risk, and economically disadvantaged people.
The PENCIL Box 


furniture, books, musical instruments, electronic equipment, sporting goods, art supplies, etc
Schools receive direct donations of gently used quality items offered by companies or individuals.
Per Scholas 


computers
Refurbished used computers are placed with educational and nonprofit organizations through their Comp2Kids and Comp2Seniors programs.
Children For Children 


books
New and gently used children's books are collected all year and donated to schools throughout the five boroughs that do not have sufficient books for their libraries or classrooms.
Project Cicero 


books
Project Cicero's ongoing book drive helps supplements or create classroom libraries for children in under-resourced NYC public schools. In addition, Project Cicero seeks to get books into homeless shelters, juvenile detention facilities, community centers, and pediatric hospital units.
Recycles.Org 


Donation seekers post requests on this national exchange network hosting the Nonprofit Computer Recycling and Reuse Network and the Nonprofit Materials Exchange Network.
Technical Career Institute, College for Technology, Dare to Repair Program 


electronic equipment
Students practice their repair skills on donated electronic equipment and return them to those in need in the community.
TechSoup 


computer hardware, software, operating systems
Offers nonprofits comprehensive listings of places to find recycled computer hardware, as well as software and operating systems donated from the manufacturers.
Tools for Schools 


computers, office furniture, office supplies
Redistributes equipment to NYC nonprofit organizations and public schools.

ALSO SEE:
grants
reuse and material exchanges
how individuals in need can get stuff 

back to top | back to incentives and helpful assistance links | back to helpful links