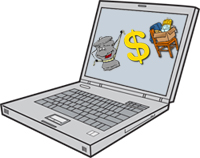 see disclaimer
---
Green Hotel Certification Pilot Program 


With third party accreditation by Audubon International/Green Leaf,

hotels, motels, inns and B&Bs throughout New York State can see a reduction in their energy, waste disposal, and other environmentally-related business expenses by participating in this program.
Green Restaurant Association (www.dinegreen.com) 


Green restaurant verification and certification, helping foodservice businesses integrate environmentally friendly and sustainable practices, and providing consumers with a database of certified restaurants.
Green Seal 


This independent, non-profit organization provides science-based environmental certification standards, utilizing a life-cycle approach. Products and services are evaluated beginning with material extraction, continuing with manufacturing and use, and ending with recycling and disposal. Products only become Green Seal certified after rigorous testing and evaluation, including on-site plant visits.
NYS DEC Environmental Excellence Awards 


New York State Department of Environmental Conservation (NYSDEC) sponsors the NYS Environmental Excellence Awards 

and the New York Environmental Leaders Program 

for businesses, organizations, and individuals that demonstrate leadership on environmental issues.
Green Cup Challenge 


The Green Schools Alliance 

runs the annual Green Cup Challenge, inviting schools to measure and reduce electricity use and greenhouse gas emissions over a one-month period, and encouraging other greening activities including recycling and water conservation.
National Environmental Educators Foundation (NEEF) 

 
NEEF provides grants to implement their program goals, support the efforts of other organizations, and to strengthen the environmental education (EE) field as a whole. In 2010, over $300,000 was given to more than 100 grantees in 34 states. A section of their website is devoted to grants and awards.
NYC DEP Water Conservation Art and Poetry Contest 


The NYC Department of Environmental Protection 

awards fourth-, fifth-, and sixth-grade students from New York City public, independent, and parochial schools in each of the five boroughs for creating original art and poetry that reflects an appreciation and understanding of New York City's water resources including water supply, wastewater treatment, and the importance of water conservation.
Samsung school competitions 


Samsung and its technology partners have donated $1 million in computers, flat screen TVs, camcorders, and other technology to 50 schools nationwide to support science, technology, engineering, and math (STEM) education to create a more sustainable future. Check their website for current offerings.
Sustainability at School: "Making a Difference" 

 
The Carnegie Council for Ethics in International Affairs hosts an annual essay contest discussing sustainability. The competition is open to teachers (any level) and students (high school through graduate school) anywhere in the world, and offers Amazon gift certificates as awards.
SWANA's Excellence Awards 


The Solid Waste Association of North America (SWANA)

recognizes outstanding programs and facilities that advance the practice of environmentally and economically sound solid waste management through their commitment to utilizing effective technologies and processes in system design and operations, advancing worker and community health and safety, or implementing successful public education and outreach programs.
USEPA WasteWise 


The United States Environmental Protection Agency (USEPA)'s WasteWise program is a free, voluntary program through which organizations eliminate municipal solid waste and certain industrial wastes. WasteWise provides free technical assistance to help organizations develop, implement, and measure their waste reduction activities.
USEPA Region 2 Environmental Quality Awards 


Our local Region 2 Environmental Protection Agency 

honors individuals and organizations who have significantly improved the environment by creation of unique or location-specific benefits, results that are sustainable or reproducible, or increased public involvement in environmental action.
ALSO SEE:
dsny bwprr: golden apple awards for K-12 schools
nyc compost project: master composter certificate
measure your impact
rate yourself
back to top | back to incentives and assistance helpful links | back to helpful links