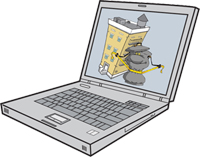 Sharps Helpful Links 



see disclaimer
---
Coalition for Safe Community Needle Disposal 


The Coalition for Safe Community Needle Disposal, comprised of businesses, community groups, nonprofit organizations, and government, promotes public awareness and solutions for safe disposal of needles, syringes, and other sharps in the community.
U.S. EPA's Disposal of Medical Sharps 


The EPA summarizes general tips for handling and disposing of used sharps.
U.S Food and Drug Administration's Needles and Other Sharps (Safe Disposal Outside of Health Care Settings) 


The FDA gives tips for safely disposing (getting rid of) needles and other sharp devices that are used outside of health care settings.
ALSO SEE:
sharps takeback programs 
handling used sharps
sharps products and services 
back to top | back to reducing household waste helpful links | back to helpful links