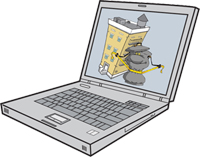 Reducing Junk Mail Helpful Links



see disclaimer
---
Catalog Choice 


The free service that lets you reduce unwanted mail, catalogs, and choose how you hear from merchants.
Credit Card OptOut PreScreen 


Remove your name from lists for credit card offers online or by calling this toll-free number: 1-888-5-OPTOUT.
Direct Marketing Association (DMA) 


DMA offers links for getting off mailing lists and reducing those annoying telemarketing calls. Start by registering.

Do It Yourself: Stop Junk Mail 


Obvious Implementations Corporation, an electronics and computer consulting and manufacturing firm, hosts the Do It Yourself: Stop Junk Mail page, which offers numerous suggestions for reducing junk mail.
Do Not Mail 


Sign the Do Not Mail petition to create a national do not mail registry; remove your name from mailing lists, learn how to advocate in your city for a do not mail registry, read editorials and blogs about junkmail.
Stop Junk Mail Forever 


More information on how to reduce junk mail can be found in a publication called Stop Junk Mail Forever, produced by Good Advice Press in Elizaville, NY.
USPS 2010 Household Diary Study 


A United States Postal Service report that documents mail trends over time.
Yellow Pages Consumer Choice 


Two leading industry associations, the Yellow Pages Association and the Association of Directory Publishers, have partnered to implement an opt out program for the delivery of yellow page directories. Because some customers receive directories from more than one publisher, this system allows the user to opt out of receiving all, or only some, of these products.
ALSO SEE:
junk mail and other unwanted publications
back to top | back to reducing household waste helpful links | back to helpful links