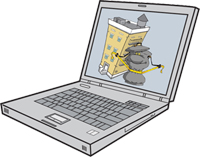 Reducing Household Waste General Helpful Links



see disclaimer
---
Environmental Yellow Pages


Worldwide directory of vendors and resources.
National Waste Prevention Coalition


The goals of the National Waste Prevention Coalition (NWPC) are to prevent waste from being created and to reduce the use of resources. Its membership consists of people in the solid waste management fields who focus on areas such as junk mail reduction, packaging, responsible consumption, and dry cleaning waste prevention. NWPC offers a Waste Prevention Resource Center page with dozens of waste prevention sites.
Story of Stuff


The Story of Stuff is a 20-minute video look at the underside of production and consumption patterns.
ALSO SEE:
helpful links about composting
reduce waste at home
get rid of stuff
back to top | back to reducing household waste helpful links | back to helpful links