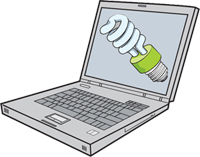 Energy Efficiency and Vehicles Helpful Links



see disclaimer
---
Energy $mart Business Partners Program for Motor Systems


New York State Energy Research and Development Authority's (NYSERDA)'s Energy $mart Business Partners Program for Motor Systems program provides technical and vendor information on the benefits of using premium efficiency motors.
Tire Retread Information Bureau (TRIB)


TRIB is a worldwide industry association promoting the economic and environmental benefits of retreading and repairing tires. The website includes a Retread Tire Buyers Guide with a directory of suppliers.
Office of Industrial Technologies


United States Department of Energy's Office of Industrial Technologies provides publications, software tools, and training information on the best energy efficient practices for motor systems.
Yext Auto Repair


Yext has created a webpage with tips to green your auto repair shop. The page lists suggestions for waste reduction and product recycling. In addition, the site hosts links to government regulatory agencies and to articles, guides and checklists related to environmental issues in the vehicle maintenance and repair sector.
ALSO SEE:
saving energy in vehicles
back to top | back to energy efficiency helpful links | back to helpful links