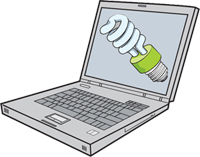 see disclaimer
---
ConEdison 


ConEd's energy-efficiency incentive programs 

, such as coolNYC 

, include financial incentives, cash rebates, and free energy-efficiency surveys for homeowners and small businesses. ConEd also offers incentives to encourage business creation 

in New York City and Westchester County, and incentives for residents to reduce power use. Also see ConEdison Solutions to learn about their Green Power 

products for residential and commercial buildings, such as Wind Energy and renewal energy options.
Database of State Incentives for Renewables & Efficiency (DSIRE) 


Check this database for information on state and federal incentives and policies for renewables and efficiency. Developed and maintained by the North Carolina Solar Center 

and the nonprofit organization Interstate Renewable Energy Council,

the database is funded by the U.S. Department of Energy's Office of Energy Efficiency and Renewable Energy (EERE).

Empire State Development (ESD) Energy Savings Programs 


ESD offers a host of Energy Savings programs to help New York State businesses save on energy costs.
National Grid 


See natural gas conversion incentives 

and rebates for businesses and residents.

Their Power of Action 

campaign encourages residential customers to lower energy consumption by 3% and offers a free energy evaluation. The small business program 

helps install energy efficient equipment.
NYC Economic Development Corporation Financing & Incentives 


The New York City Economic Development Corporation (NYCEDC)

provides links to City and State incentive programs, utility programs, and tax exemption programs for current and future New York City businesses.
NYSERDA Programs and Funding Opportunities 


New York State Energy Research and Development Authority (NYSERDA) offers a number of programs and funding opportunities to help residences and commercial establishments become more energy efficient.
ALSO SEE: 
energy efficiency information
back to top | back to energy efficiency helpful links | back to incentives & assistance links | back to helpful links