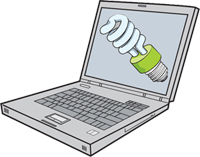 Energy Efficient Appliances Helpful Links



see disclaimer
---
Consumer's Guide to Energy Efficiency and Renewable Energy 


To review United States Department of Energy (DOE) regulations, specifications, and tips to cut energy costs, see Appliances and Home Electronics 

in the Consumer's Guide to Energy Efficiency and Renewable Energy.
Consortium for Energy Efficiency (CEE) 


CEE is a consortium of efficiency program administrators from across the U.S. and Canada who work together on common approaches to advancing efficiency. CEE does research on appliances for both residential 

 as well as commercial 

 settings. CEE's tiered rating system for appliances shows products that exceed the minimum Energy Star standards.
Energy Star® Appliance Page 


The United States Department of Energy (DOE) Energy Star® Appliance Page provides information on purchasing energy-efficient appliances. Use "locate a store" to find a convenient retailer offering ENERGY STAR-rated appliances and electronics.
Northeast Energy Efficiency Partnerships (NEEP) 


NEEP provides information about energy efficiency in homes, buildings, and industry in the Northeast U.S., including appliance standards.

ALSO SEE:
energy efficiency information
back to top | back to energy efficiency helpful links | back to helpful links