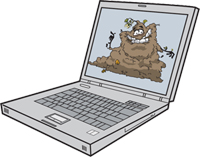 Composting Guides Helpful Links


     
see disclaimer
---
Brooklyn Mompost Compost 

   
Site hosts You Tube videos created by NYC Compost Project Master Composter, Annie Hauck-Lawson. Videos focus on the basics of how to compost, different types of compost bins, and different ways to create and maintain optimal composting conditions.
Composting 101 

  
Comprehensive guide with tips and tricks.
Cornell Composting 


Home composting brochure.
Florida's Online Composting Center 

  
Compost tutorial developed by Sarasota County Government. 
How to Compost 


Learn how to make compost, and why improving your soil is the best
thing that you can do for your lawn and garden.
Journey to Forever: Composting 


Composting and vermicomposting: how, why, and different uses for compost.
MasterComposter.com 


Overview of different composting techniques. 
Organic Gardening 


Online magazine with a wide range of compost-related articles.
University of Wisconsin Extension: "Common Backyard Composting Questions and Answers" 


Graphs documenting how to get started, acceptable compostables and troubleshooting  common compost problems.
Veg Web: Compost Guide 


Vegetarian recipes and basic compost guide.
ALSO SEE:
how to compost  
sustainable lawn care
composting in nyc  
back to top | back to composting helpful links | back to helpful links