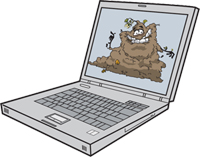 see
disclaimer
---
The Adventures of Vermi the Worm


Animated, interactive game about vermicomposting.
Agriculture in the Classroom


Established in 1985 as a partnership between Cornell University, the NYS Department of Agriculture and Markets, the NYS Education Department, and the New York Farm Bureau, NY AITC educates youth, teachers, and consumers about agriculture and the food and fiber system. The site offers information, lesson plans, helpful links, awards, and grants.
Backyard Magic: The Composting Handbook


K-6, students, teachers
Produced by the Department of the Environment of New Brunswick in Canada, the site offers a range of information for turning organic household waste into a valuable soil conditioner. Some of the sections include: The Compost Container, Can I Compost This?, Composting Indoors, and Worm Composting. The site is also available in French.

Castle Compost


Children's illustrated adventure books to help teach about composting.

City Farmer: Worm Words


Dictionary of composting terms.
Composting for Kids


Composting slide show for elementary school students.
Composting: Nature's Recycling Program


K-6, students, teachers
A comprehensive guide to composting from Environmental Defense, it includes easy and fun sections for teachers and students such as The Worm Turns: One School's Story; Why Compost?; Getting Started, including Step-by-Step Plans; and Backyard Composting: A Community Program.
Cornell Composting


Composting curriculum with K-12 lesson plans.
EPA: Composting Basic Information


Basic definition of compost with acceptable bin materials.
How to Compost


all ages, students, teachers
This site serves as a hub of information for anyone interested in composting, with an online composting handbook, as well as tips for managing yard waste. This site also offers links to a compost quiz, a bumper sticker, publications, children's activities, an online resource for microbial science, and sites that provide tips for successful maintenance of the various types of compost piles.
Kids Gardening


Educators share experiences and ideas for how to teach youth about waste and compost.
MasterComposter.com


Wide range of lesson plans, project suggestions.
Organic Gardening


all ages, teachers
After the class has made compost, this is a valuable guide to planting with it. The site speaks to soil testing, planting without herbicides or pesticides, and planting an organic garden in an urban setting.
Recycling Consortium: Composting in Schools


Basic lessons on compost.
School Composting: A Manual for Connecticut Schools


How to implement a school-based composting program.
Teachers Domain: Compost Office


Compost facts for K-12.
Yucky Fun and Games: Worms as Recyclers


all ages, students, teachers
This fun and easily readable site includes a Teacher Center as well as sections for students like Meet Mary the Worm Woman, All About Earthworms, Worms as Recyclers, Worm World, and Gross & Cool Body.
ALSO SEE:
composting programs for nyc schools
composting in nyc
cleanup and gardening activities for students
helpful links for teachers & kids
info for schools

back to top | back to composting links | back to teachers & kids links | back to helpful links