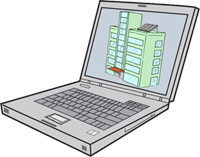 Green Building Standards, Guidelines, and Accreditation Helpful Links



see disclaimer
---
Construction Standards for NYC Agencies 


Following the passage of various purchasing and green building laws, NYC has developed a series of mandatory construction standards that NYC Agencies must follow.
NYC Department of Buildings 


The NYC Building Code has been updated to include new standards to improve the efficiency of NYC's buildings.
The NYC Department of Design and Construction's Office of Sustainable Design 


Established the High Performance Building Guidelines and High Performance Infrastructure Guidelines to help integrate high-performance features into the programming, design, construction, and operation of municipal facilities and the surrounding infrastructure. They also have developed contract specifications and training for various green building categories.
Writing the Green RFP: Sustainable Design Language for Consultant Requests 


American Institute of Architects (AIA) created Writing the Green RFP: Sustainable Design Language for Consultant Requests, a tool that provides guidance and model language for including sustainable design in requests for proposals or qualifications for architectural services.
American Society of Heating, Refrigerating and Air-Conditioning Engineers (ASHRAE) 


ASHRAE is an international organization that writes standards that set uniform methods of testing and rating equipment and establish accepted practices for the HVAC&R industry worldwide.
California Integrated Waste Management Board (CIWMB) Green Building 


CIWMB's green building page includes program design elements 

with studies and information on the cost of green building, the materials used in green building and standards and guidelines.
Consortium for Energy Efficiency (CEE) 


CEE is a consortium of efficiency program administrators from across the U.S. and Canada who work together on common approaches to advancing efficiency. CEE does research on building performance for residential buildings 

 as well as commercial buildings 

.
EnergyStar 


A program of the United States Department of Energy (DOE), EnergyStar rates homes and offers guidelines for buildings based on energy efficiency and indoor environmental quality. Target Finder 

is a tool that offers a performance rating scale to compare new building design with definitive energy goals, while the Portfolio Manager 

tool helps monitor and manage the energy performance of existing buildings.
Forest Stewardship Council 


FSC puts forth principles and criteria for certification of wood and wood-based materials derived from environmentally responsible forestry practices.
Green Globes 


Green Building Initiative (GBI) 

maintains a green building rating system called Green Globes. This system is an American National Standards Institute accredited program that is assessed online and then verified by a third party.
GreenTree 


This website is sponsored by the National Center for Appropriate Technology and helps you select building materials and technologies that help conserve resources by using them efficiently.
The Hugh L. Carey Battery Park City Authority 


A public organization created to manage Battery Park City on Manhattan's Lower West Side has created environmental guidelines for building residential and commercial/institutional properties on the property. These guidelines have resulted in a high concentration of green buildings within Battery Park City.
National Association of Home Builders (NAHB) Toolbase Services 


NAHB's Toolbase Services has developed various green building resources 

 including the Green Home Building Guidelines 

 which has a checklist, a point system, and a users guide to help implement the checklist program.
New York State Energy Research and Development Authority's (NYSERDA) High Performance School Design Online Training 


NYSERDA's High Performance School Design Online Training is a free training program where architects and engineers can take 28 online courses on high performance schools and earn continuing education credits.
Sustainable Buildings Industry Council (SBIC) 


SBIC maintains guidelines for homebuilders and schools as well as Energy-10 energy simulation software.
United States Environmental Protection Agency (USEPA) Green Building 


The USEPA's Green Building site provides numerous resources on green building, including the BEES (Building for Environmental and Economic Sustainability) 

software. The downloadable software allows users to select cost-effective "green" building products and was developed by the NIST (National Institute of Standards and Technology) Building and Fire Research Laboratory, with support from the USEPA Environmentally Preferable Purchasing (EPP) Program and the HUD Partnership for Advancing Technology in Housing (PATH).
United States Green Building Council (USGBC) 


USGBC's Leadership in Energy and Environmental Design (LEED) 

rating system provides a common definition and standard of measurement for green building. USGBC runs professional accreditation workshops and exams 

for building professionals and maintains a searchable database 

of LEED accredited professionals. USGBC also maintains resources 

on green building including cost analysis with models 

of buildings that cost the same or less than a non-green building.
GreenTools 


The King County Solid Waste Division in Washington State presents GreenTools, a program that offers information about recycling job-site material and green building practices, technologies, policies, and standards in residential and commercial development.
ALSO SEE:
green building info
nyc green building law
products and services
back to top | back to green building helpful links | back to helpful links