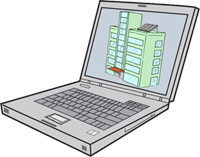 NYC Green Building Helpful Links



see disclaimer
---
Green Towers for New York: From Visionary to Vernacular 


The Skyscraper Museum's Green Towers for New York: From Visionary to Vernacular exhibition includes information, images and video on many of New York's green buildings.
Hugh L. Carey Battery Park City Authority 


This public organization, created to manage Battery Park City on Manhattan's Lower West Side, has produced environmental guidelines for building residential 

and commercial/institutional 

properties. These guidelines have resulted in a high concentration of green buildings within Battery Park City. Following the completion of the Solaire building in Battery Park City, the authority created a cost impact study to determine the cost impact of their residential environmental building guidelines.
NYC Green Schools Guide 


NYC School Construction Authority (SCA) has developed the NYC Green Schools Guide, which includes a rating system and guidelines to help NYC schools comply with Local Law 86 of 2005.
NYC Office of Environmental Coordination (OEC) 


OEC manages the implementation of Local Law 86 of 2005, New York City's Green Building Law. In addition, OEC sponsors the Green Building Competition for New York City.
Office of Sustainable Design (OSD) 


Under the NYC Department of Design and Construction (DDC), OSD established sustainable design specifications 

 for various green building categories, as well as a sustainable design training program 

and various guidelines to help integrate high-performance features into the programming, design, construction, and operation of municipal facilities. In addition, DDC developed reports and manuals 

to assist agencies and consultants in complying with Local Law 86 of 2005.
Examples of New York City green building projects include:
Office Buildings:
Residential Buildings:
Public Buildings:
ALSO SEE:
green building info
green building standards
nyc agency construction standards
nyc green building law
products and services
back to top | back to green building helpful links | back to helpful links