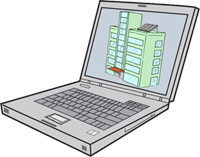 Green Building Deconstruction Helpful Links



see disclaimer
---
Building Materials Reuse Association (BMRA)


BMRA is a member organization who tries to education about building deconstruction and reuse.
Deconstruction Institute


Deconstruction Institute of Charlotte County, Florida receives funding from the Florida Department of Environmental Protection to provide educational materials, tools, resources, and case studies on deconstruction practices in the United States.
Institute for Local Self Reliance (ILSR)


ILSR is a not-for-profit research organization where you can find an overview of deconstruction

and provides links to publications and relevant articles.
ReStore


The ReStore is a nonprofit used building materials supplier in Washington State. Read about them in the article Deconstructing for Dollars

or visit the ReStore website to learn more about them.
ALSO SEE:
green building info
nyc green building law
products and services
back to top | back to green building helpful links | back to helpful links