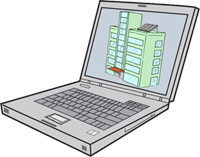 see disclaimer
---
Database of State Incentives for Renewables & Efficiency (DSIRE) 


Check this database for information on state and federal incentives and policies for renewables and efficiency, including green building. Developed and maintained by the North Carolina Solar Center 

and the nonprofit organization Interstate Renewable Energy Council,

the database is funded by the U.S. Department of Energy's Office of Energy Efficiency and Renewable Energy (EERE).

New York State Energy Research and Development Authority (NYSERDA) 


Building design teams interested in building green should see NYSERDA's current funding opportunities 

and Green Buildings Program (pdf)

for information on green building initiatives, the governor's green building tax credit, computer modeling, and materials'analysis.
USEPA Green Building Funding Opportunities 


This US Environmental Protection Agency webpage lists federal, state, and local funding opportunities for green building, including grants and incentives for government, consumers, industry, and nonprofits.
US Green Building Council - Links 


This page of links developed by the US Green Building Council 

to facilitate research includes links to funding sources, tax incentives, and assistance projects.
ALSO SEE:
green building info
nyc green building law
products and services
back to top | back to green building links | back to incentives links | back to helpful links