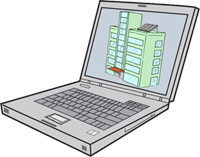 Reducing Construction and Demolition Waste Helpful Links



see disclaimer
---
C&D Waste Manual

 
The NYC Department of Design and Construction (DDC) developed this manual to help design and construction professionals prevent waste, increase materials recovery, and thereby reduce exports to landfills. Since C&D waste management requires a cooperative effort, the manual provides guidelines for all of the usual project participants. DDC's Office of Sustainable Design (OSD) disseminates City-specific information on sustainable design and provides resources for its managers, consultants, and client agencies.
Construction Materials Recycling Association (CMRA)


CMRA is a member organization that provides education about C&D recycling.
Contractor's Toolkit


California's Department of Resources Recycling and Recovery (CalRecycle 

) construction and demolition debris recycling page

includes a contractor toolkit with C&D recycling plans and specifications.
King County, Washington, Solid Waste Division


The King County Solid Waste Division construction recycling

page includes design specifications

and a cost and savings calculator

for C&D recycling.
ALSO SEE:
green building info
nyc green building law
products and services
back to top | back to green building helpful links | back to helpful links