Recycling is required at all NYC street events, including block parties and street fairs. Fines may be issued for non-compliance with recycling regulations.
How to Recycle at Street Events


contact NYC Department of Sanitation


recycling collection options


what to recycle


recycling set-up at your event


recycling bins and signage


violations


for more information
ALSO SEE:
nyc's public space recycling program

---
Contact NYC Department of Sanitation
At least three weeks prior to the street event, street event organizers must contact the Department of Sanitation's local District Superintendent (or designated officer) within the Community Board where the street event will take place to discuss when and where to place refuse and recyclable materials for collection, as well as street cleaning procedures.
Find information for your local District Superintendent by contacting the Department of Sanitation Office of Special Events at (646) 885-4867 or (646) 885-4868.
---
Street event organizers have several recycling collection options:
Ask the District Superintendent to have the Department of Sanitation pick up recyclables each night of the event. (Organizers will be charged for this service if the Department incurs additional personnel and/or equipment costs.)
OR: Set recyclables out for Department of Sanitation collection on the neighborhood's regular Recycling Day. (Organizers may have to store recyclables off the street until collection.) Place recyclables at the designated location(s) the night before the Recycling Day. To find out the Recycling Day use the collection schedule feature on the Department of Sanitation website , or call 311.
OR: Bring recyclables to a local Department of Sanitation facility; this requires prior approval from the District Superintendent.
OR: Hire a licensed private carter or private recycler to pick up and recycle the materials. The District Superintendent must approve collection time and location.
---
All street events must arrange for the proper source separation and collection of the following recyclable materials:
Metal cans, lightly soiled aluminum foil and aluminum foil products, glass bottles and jars, rigid plastic containers, and food/beverage cartons.
Corrugated cardboard, flattened and bundled with rope or twine..
---
Recycling Set-Up at Your Event
BEFORE THE STREET EVENT
Label containers and lids for recycling.

Line all recycling containers with clear bags.

Place recycling containers next to each litter basket and waste container.

Review recycling requirements with exhibitors and vendors.

Distribute clear recycling bags to exhibitors and vendors.
DURING THE STREET EVENT
Remind exhibitors and vendors what to recycle and where to place full bags.
Regularly monitor recycling receptacles throughout the event area in order to prevent overflow and contamination of recycling containers.

Remove items not acceptable for recycling, when possible.

Replace clear bags before they are full; tie closed and bring to designated collection locations.

Clean up litter near containers.
WHEN THE STREET EVENT IS OVER
Remind exhibitors and vendors where to place bags of refuse and recyclables for collection

OR pick up these materials from vendors and exhibitors and bring to designated collection locations

Remove clear bags from recycling containers; tie closed and bring to designated collection locations

Remove recycling and litter containers from the street
---
The Department of Sanitation does not provide recycling or garbage bins or bags. Many types of containers can be used for recycling so long as they are properly labeled. Recycling containers must be lined with clear bags. For some events, particularly block parties, residents sometimes lend the use of their recycling bins for the duration of the event. See where to buy recycling bins; some of these vendors have containers that are well-suited for outdoor use.
Clearly label recycling containers and lids to indicate what items to recycle. Label containers on both sides and the lid using decals, or paint or permanent marker in letters at least 4" high:
RECYCLING: METAL, GLASS, PLASTICS & CARTONS (blue decal)

Event vendors and organizers should place bundled cardboard next to recycling bins.
If the Department of Sanitation is collecting recyclables from the street event, organizers may use the promotional materials page to download and print "decals" and signage. If that is not a convenient option, the local District Superintendent may be able to provide decals.
Otherwise, ask about decals and signage while procuring recycling bins; find out if your carter provides decals and signs; or create your own signage.
---
Both organizers and vendors can receive Notices of Violation for failure to source separate recyclables and failure to provide labeled recycling containers. The following infractions could result in a Notice of Violation issued to organizers and vendors of street events: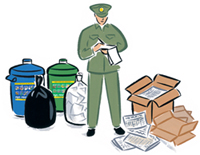 Failure to source separate designated recyclables at events where food/beverages are sold.

Failure to source separate designated recyclables at non-food/beverage events.

No recycling containers or containers not labeled at events.
Non-compliance with recycling regulations is punishable by fines starting at $100 for each violation (not to exceed $500 per day or $2,000 per street event).
---
The Mayor's Street Activity Permit Office (SAPO)

issues permits for street fairs, festivals, block parties, green markets, commercial/promotional events, and other events on the City's streets and sidewalks.
Questions about recycling at NYC street events should be directed to:
NYC Department of Sanitation
Office of Special Events
125 Worth Street, Room 807
New York, NY 10013
(646) 885-4867 or (646) 885-4868