Principals, custodians, food service staff, teachers, and students all have responsibilities to make sure that materials designated for recycling are kept separate from garbage and properly placed out for Department of Sanitation collection.
To set up a successful recycling program, start by talking with your principal about your current program, NYC's requirements, and goals for improvement.
Here's how:


determine your school's designated sustainability coordinator


work with the building custodian


set up containers for recycling


inform entire school community
ALSO SEE
training videos
organics collection
back to top | back to recycling in schools
---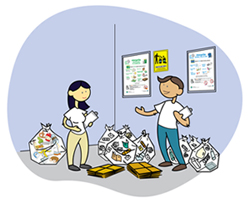 Work With the Custodian
Recyclables are collected in CLEAR bags from each room.

Recyclables never go in the same bag with garbage.
Paper & cardboard do NOT go in the same bag with metal, glass, plastic & cartons.
Custodians (not students) handle internal collection, and place recyclables out for recycling collection.

Paper & cardboard must be kept separated from metal, glass, plastic & cartons and from garbage in 3 distinct piles or areas.
Use the site visit request form to arrange for a Recycling Outreach specialist to come do an informative walk-through with your custodian, principal, SchoolFood staff, and Sustainability Coordinator.
back to top | back to recycling in schools
---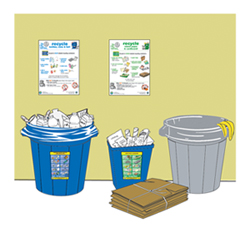 Set Up Containers for Recycling
The Department of Sanitation does not provide recycling or garbage containers. Your custodian or principal can purchase recycling bins through their standard DOE procurement process.
Place labeled containers wherever designated recyclables are normally discarded.

Place recycling containers for paper: in each classroom, in offices, near copiers and mailboxes.
Place recycling containers for metal, glass, plastic & cartons: near vending machines, in lunchrooms, and in offices.
Place both recycling containers: near garbage cans in common areas like lobbies, hallways, auditoriums, and gyms.
Any type of container can be used for recycling indoors — you can even use labeled cardboard boxes or empty buckets from the cafeteria kitchen that would otherwise be discarded.
Label recycling containers with free Department of Sanitation decals (or use paint or permanent marker).
Post signs explaining what to recycle near every container.
See the school materials request form to order free recycling decals and signs, or to download and print your own.
back to top | back to recycling in schools
---
Inform Entire School Community
Circulate an annual reminder to teachers and all staff about what and how to recycle.
Explain to students what and how to recycle in classrooms, cafeterias, and common areas. Make periodic reminder announcements.
Tell afterschool programs, parent associations, and outside groups how to recycle when they use your space. Set up recycling bins at events, and be prepared to recycle larger quantities.
Include recycling announcements and notices in your newsletters, webpages, and events planning.
Send recycling information home via backpack mail to reinforce the recycling message, and encourage families to support your students' daily recycling and waste prevention habits at home.