TrashMasters! Team Up to Clean Up rewards cash prizes to NYC Department of Education schools that conceive, design, and implement innovative cleanup, beautification, or reclamation projects, including school gardens.
See list of all 2014 Golden Apple Awards contest winners! (pdf) (click on school names to see project descriptions).
The 2014 winners received $10,000 for Citywide Winners; $5,000 for Borough Winners; $2,500 for Borough Runners-Up, and $1,250 for Honorable Mention — plus $1,000 for Golden Shovel Award winners in each borough. Award levels change year-to-year based on available funding.
ALSO SEE
cleanup and gardening activities for students
prior golden apple winners (select year)
connect with us on Facebook or Twitter
---
Contest Overview: Show us your school garden or community cleanups!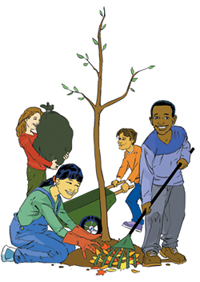 TrashMasters! Team Up to Clean Up provides students with invaluable hands-on experience in caring for their communities, and increases awareness of their direct impact on the environment.
NYRP Rose Award
Bette Midler's New York Restoration Project

presents the NYRP Rose Award to one Golden Apple Award entry in any grade division that exhibits an outstanding vision for a beautification project that embodies the mission of NYRP. The winner receives a consultation and supplies to help the school realize its vision.
Resources for Success
Consider cleanup, beautification, or reclamation projects that will lead to long-term improvement in your school or community.
Try some of these ideas for cleanup and gardening activities for students.
Review entries submitted by prior year Golden Apple winners to see different ways that other schools have conducted these types of projects, involved environmental clubs, and incorporated multi-discipline applied learning components.
Important Note: Do not encourage students to undertake tasks that are normally the responsibility of paid custodial or maintenance staff.
---
How to Enter
Note: The Contest Coordinator must be a teacher or administrator employed at an NYC DOE school.
Describe and document each cleanup, beautification, reclamation, or gardening project your school initiated.
Add explanatory documentation (reduce file sizes as necessary):
● photos, illustrations, graphics
● memos, letters, flyers, posters, charts, graphs, scripts, lyrics
● lesson plans, exemplary samples of student work

Convert your completed document into a pdf (3MB max).

● get

technical assistance

with your online submission
Please feel free to contact BWPRR with any questions or problems.
---
Team Up to Clean Up Contest Entry Questions

cover page


cleanup and gardening projects


composting
Please include the following info on the cover page of your contest entry:
SCHOOL INFO
School Number
Official School Name
(School Also Known As)
Street Address, City, Zip
Phone #, Fax #
Principal: Name, Phone, Email
Contest Coordinator: Name, Title, Phone, Email
(must be a teacher or administrator employed at the school)
School description — What other relevant information should the Golden Apple Awards judges know about your school community? Include size, location, population, special missions.
CONTEST ENTRY INFO
STUDENT INVOLVEMENT
Student Participation: Core Group #_____
Student Participation: Total #_____
School Population: Total #_____
back to top | back to questions top
CLEANUP AND GARDENING PROJECTS
For each project you initiated, briefly describe and document the following:
IMPLEMENTATION
Why this? Explain why you chose this project.

What did you do? Describe and include photos of the site before, during, and after your efforts. (Submit project plans if your project is not completed by contest entry deadline.)

Project planning. Your objectives, and the planning and organization that drove this project.

Student involvement. All student efforts to plan and implement the project. Include activities conducted by classrooms, cluster, grade, school wide, team, club, or afterschool program.

Promotion. Efforts to promote this project, such as announcements, memos, flyers, posters, letters, web pages, skits, songs, assembly programs, media coverage, or other special events.

Collaboration. Any corroboration with other schools, professionals, businesses, or community organizations on this project. Did you solicit donations or help?

Educational components. Include learning standards met, lesson plans, and exemplary samples of student work.
PROJECT ANALYSIS
What worked? What were the most successful aspects of this project?

What didn't work? What were the least successful aspects of this project?

Applicability to other schools. What advice would you give to other schools with similar populations who want to replicate your project?

Measuring success. Describe how you measured the success of your project. Explain any impact on the students or community.

Future plans. How would these prize funds be used to further enhance your school recycling program, waste prevention initiatives, or beautification projects?
back to top | back to questions top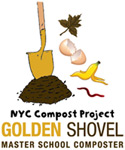 SCHOOL COMPOSTING PROGRAMS
Golden Apple Award entries with composting programs* may also enter the Golden Shovel Award competition for your borough's Master School Composter, selected by the NYC Compost Project.
To enter, check the box "We Compost" on the Team Up to Clean Up Contest Entry Submission, and include answers to the following questions in your contest entry:
Describe your school's indoor and/or outdoor composting efforts.

Describe collaborations with outside organizations.

Document compost education efforts; show lesson plans, standards met, and students' work.

Explain if and how these composting efforts will be maintained on an ongoing basis.

Could your school's composting efforts be replicated by other schools with similar populations? Please explain.
* Schools participating in the Organics Collection Program should enter TrashMasters! Super Recyclers and document educational tie-ins.
back to top | back to questions top | back to golden apple awards