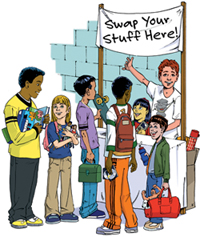 TrashMasters! Reduce & Reuse Challenge honors schools for implementing the most successful and innovative waste prevention practices within their borough.
Use this form to upload a PDF of your entry for this contest. Make sure that your entry answers all the contest entry questions on the Reduce & Reuse Challenge contest info page.
Go here for technical assistance with your Golden Apple Awards online submission.
All entries must be submitted on or before Thursday, May 1, 2014. Contact BWPRR if you have any questions or problems.
---
NOTE: fields marked with an asterisk (*) are required.