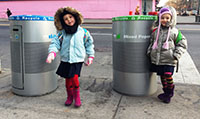 Public space recycling is a highly visible way to communicate the message that NYC recycles for people who live, work, or visit New York City.
You might be surprised to learn that very little of NYC's waste is set out in street baskets. The vast majority of what is thrown away comes from residences and businesses. Nevertheless, public space recycling represents an important part of the city's overall commitment to a greener, cleaner New York.

locations of nyc's public space recycling containers


what goes in the public space recycling bins


why isn't there more public space recycling...


...on street corners


...in the subway


...in nyc airports
ALSO SEE:


2007 public space recycling pilot


recycling at street events
---
Locations of NYC's Public Space Recycling Bins
The following locations in New York City currently have public space recycling (PDF) containers.
---

What Goes in NYC's Public Space Recycling Bins
NYC's public space recycling bins, placed in strategic locations in all five boroughs (PDF), collect the same materials as NYC's residential recycling program:
green bins: newspapers, magazines, and mixed paper

blue bins: metal, glass bottles & jars, rigid plastic containers & food/beverage cartons
Material in the public space recycling bins is collected by the NYC Department of Sanitation and brought to the city's recycling vendors to be recycled. See what happens to NYC's recyclables.
Materials placed in NYC's street litter baskets is discarded as trash and is not recycled. Visit the Department of Sanitation

website for info on how NYC handles trash.
Find out more about the waste composition of NYC's street baskets.
---
Why Isn't There More Public Space Recycling in NYC?

on street corners


in the subway


in nyc airports
Public Space Recycling on NYC Street Corners
In spring 2007, a Public Space Recycling Pilot was conducted by the Department of Sanitation, in collaboration with the Department of Parks and Recreation and the Department of Transportation, in accordance with NYC's Comprehensive Solid Waste Management Plan.

The 2007 Public Space Recycling Pilot demonstrated:
recycling of newspapers and other paper works well

but recycling of metal, glass, plastic & cartons is problematic, with a high rate of contamination

requires ongoing monitoring of bins by maintenance staff

works best in areas dense with commuters and lunching office crowds
The Department of Sanitation's comprehensive study of residential and street basket waste looked at the contents of street basket waste, finding that over 40% consisted of materials that could be recycled. However, because street baskets contain such a small fraction of NYC's overall waste (around 1%), even if it were possible to recycle all these materials, it won't make a difference in the amount of waste going to disposal (40% of 1% = 0.4%).
Nevertheless, NYC's Public Space Recycling Program continues to expand. See locations of current public space recycling bins (PDF) collected by the NYC Department of Sanitation.
---
Public Space Recycling on Subway Platforms and Stations
Waste generated in NYC subways and on subway platforms is handled by the Metropolitan Transportation Authority (MTA).

When NYC started its recycling program in the 1980s, the MTA, in cooperation with the NYC Department of Sanitation, placed recycling containers on a trial basis on the platforms of certain high-traffic stations. They found that riders used recycling containers for both garbage and recyclables, negating the extra effort on everyone's part.
The MTA has determined that the security risks and additional cost of maintaining separate bins with a separate collection system for recyclables is not warranted, and they decided to arrange for post-collection retrieval of recyclable materials from NYC subway platform waste.
The MTA does run some source-separated recycling programs for communters at facilities managed by Metro-North.

There are newspaper collection bins at Grand Central Terminal, and the majority of Metro-North stations have separate receptacles for commuters to discard newspapers, bottles & cans, and trash.
For more info on MTA's recycling programs, visit:
---
Public Space Recycling in NYC Airports and Bus Terminals
The operation of NYC airports is handled by The Port Authority of New York & New Jersey.

While airports and bus terminals are required to recycle, it is beyond the statutory authority of the Department of Sanitation or the City of New York to enforce this, since Public Authorities are formed by statute and are not subject to state and local law, but rather fall under the Public Authority Law.
The Port Authority's Airport Environmental Initiatives

explains they are currently recycling some materials and strive to establish or improve public area recycling in the passenger terminals for all of the NYC-area airports.