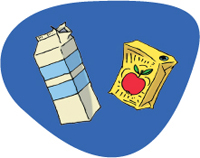 Why NYC Recycles Beverage Cartons with Bottles and Cans


In its recycling program, NYC collects food and beverage cartons (such as gable-topped cartons and juice boxes) along with metal, glass, and plastic because these items often contain remnants of food or liquids. Mixing these food-soiled items with paper and cardboard would cause the truckload of paper to become contaminated.
Before adding beverage cartons to its recycling program, the NYC Department of Sanitation consulted with its recycling vendors to determine the best way to collect this material. Sanitation decided to add beverage cartons to the bottle and can recycling stream (as opposed to the mixed paper stream) since this stream normally experiences the highest levels of contamination so could better tolerate the additional liquid residue.
After being collected by Sanitation trucks, beverage cartons, go with metal, glass, and plastic recyclables to material recovery facilities that sort and separate the different types of recyclables into bales (see what happens to recyclables ). Bales of beverage cartons are then sent to special processors who can separate the layers of paper fiber and inner foil to reclaim these commodities.