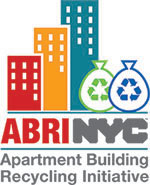 Participate in the NYC Apartment Building Recycling Initiative!
If you satisfy program requirements, you'll work with the NYC Department of Sanitation to educate residents and staff in your building about the three R's: Reduce, Reuse, Recycle.
Once you sign up with NYC ABRI through our online enrollment program form, here's what will happen:
1. You'll be invited to attend a training session where you'll receive info about how to improve apartment building recycling.
Note: Training sessions are held at the offices of the DSNY Bureau of Recycling & Sustainability in downtown Manhattan.
Upcoming trainings:
Thursday, December 11, 6:00pm-8:00pm

Wednesday, January 14, 9:30am-11:30am

Thursday, February 12, 1:30pm-3:30pm

We can do specially scheduled on-site trainings for at least ten participants. Each participant would need to complete the enrollment program registration form. If you are interested in organizing such a training, please indicate this on the sign-up form.
2. DSNY outreach staff will visit your building to see how recycling is set up.

3. We'll provide your building (free of charge) with recycling decals, posters, checklists, and other materials to encourage all residents to recycle more.

4. After you have attended the training, you'll receive personalized suggestions on how to improve your building's recycling set up. Throughout your participation, you'll have access to DSNY recycling experts, whom you can contact for recycling pointers and support. Read "Recycling School" article in Habitat Magazine about the ABRI program.
---
NYC ABRI Participants Must:
Be at least 18 years of age.
Live in, work in, or manage a residential building with four or more units that currently receives DSNY collection.
Be willing to work cooperatively with building management to enhance recycling within the building.
Take part in at least one ABRI training session.
---
NYC ABRI Participants Get a Free T-shirt
Come to an ABRI training session and take home a t-shirt!