Apartment Building Recycling Initiative
Registration Form for BUILDING STAFF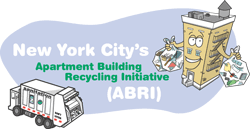 To sign up for the NYC Apartment Building Recycling Initiative, please complete the registration form below if you are part of the building staff.
If you work for a residential management company, please use the form for management companies. If you are a building resident, please use the form for building residents.
Upon receipt of your registration, we will contact you to confirm your enrollment and to let you know when the next training session will be held.
If you have questions about the program, please contact BWPRR.
---
NOTE: fields marked with an asterisk (*) are required.