Commonly used household products can be harmful to you, your family, your pets, city workers, and the environment if improperly stored, used, or discarded.

See press release.


when & where

who can participate

what to bring

how to package materials

what happens to this stuff

poison help hotline

SAFE events go social

event organizers

SAFE events in the news
ALSO SEE:
harmful household products
electronics recycling
---
When & Where
All events will be held from 10am to 4pm (rain or shine).
For safety reasons, attendees may not unload their vehicles outside of the event area.
---
Only NYC residential waste will be accepted. No commercial vehicles allowed. Residents MUST provide proof of NYC residency (NYS driver's license, utilitly bill, etc.).
---
What to Bring
Below is a partial list of the types of items that will be accepted at the NYC SAFE Disposal Events. When deciding what items to bring, look for products labeled with the following signal words: DANGER, POISON, or CAUTION. Products labeled DANGER represent the highest hazard level. Please also bring any other materials stored in your home that you know may be harmful.
For all items, please read how to package materials below.
Items such as alkaline batteries and latex (water-based) paint no longer contain harmful materials and can be discarded in the trash. Latex paint must be dried out before the empty can is recycled; or you can pursue reuse options.
---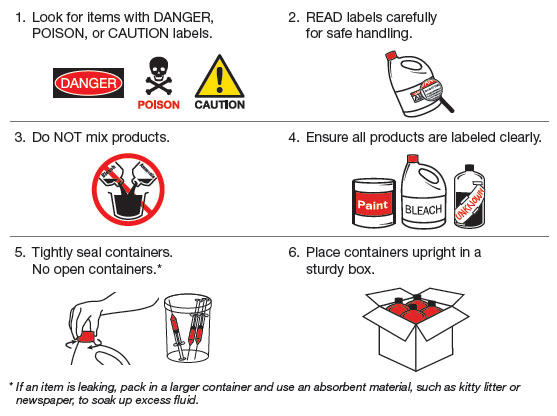 ---
Depending on the product, materials collected will either be recycled, blended for fuel, or sent to licensed hazardous waste treatment facilities for safe disposal.
Electronics will be responsibly recycled or refurbished for reuse through e-cycleNYC.
Cell phones will be donated to the Mayor's Office to Combat Domestic Violence, through Hopeline® from Verizon.
All data will be removed from electronics and cell phones before processing.
Unwanted medications will be managed by environmental police and incinerated to prevent accidental poisonings or entry into the water supply.
---
Poison Help Hotline

If you think a family member (or pet) has been exposed to a harmful product, call the NYC Poison Control Center

Hotline at 1-800-222-1222 or 212-764-7667. The Hotline is available 24 hours a day, 7 days a week.
---
Share photos, ask us questions, and tell us your thoughts! What are you planning to bring?
---
These events are organized and funded by the DSNY Bureau of Waste Prevention, Reuse and Recycling.
We rely on several partners and contractors including Covanta Energy, Electronic Recyclers International, HopeLine® from Verizon, the Mayor's Office to Combat Domestic Violence, and Veolia ES Technical Solutions.
Special thanks to our site partner: NYC Department of Parks and Recreation.
---

SAFE Disposal Events in the news