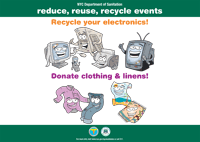 Previous DSNY Electronics Recycling & Clothing Donation Events


Through its fall and spring electronics recycling and clothing donation events, the DSNY Bureau of Waste Prevention, Reuse and Recycling (BWPRR) has collected large quantities of electronics for recycling and clothing and linens for donations from NYC residents. See dates below for info, stats, and BWPRR Promotional pieces for past events.

Fall 2008


Spring 2008


Fall 2007


Spring 2007


Fall 2006


Spring 2006


Fall 2005


Fall 2004
See electronics recycling for info on disposal options.
---
Fall 2008 Electronics Recycling & Clothing Donation Events
Electronics Recycled
206 tons

Cell Phones Recycled
1,009 pounds*

Clothing and Linens Collected
111 tons**
*Cell phones collected during these events will benefit survivors of domestic voilence through a program of the Mayor's Office to Combat Domestic Violence 



**Clothing and linens collected during these events were donated to Goodwill Industries
BWPRR Program Promotion
back to top | back to electronics recycling | back to events
---
Electronics Recycled
207 tons

Cell Phones Recycled
1,246 pounds

Clothing and Linens Collected
92 tons*
*Clothing and linens collected during these events were donated to Goodwill Industries
BWPRR Program Promotion
back to top | back to electronics recycling | back to events
---
Fall 2007 Electronics Recycling & Clothing Donation
Events


Electronics Recycled
179 tons

Cell Phones Recycled
860 pounds

Clothing and Linens Collected
85 tons*
*Clothing and linens collected during these events were donated to Goodwill Industries
BWPRR Program Promotion
back to top | back to electronics recycling | back to events
---
Electronics Recycled
115 tons

Cell Phones Recycled
749 pounds

Clothing and Linens Collected
44 tons*
*Clothing and linens collected during these events were donated to Goodwill Industries
BWPRR Program Promotion
back to top | back to electronics recycling | back to events
---
Fall 2006 Electronics Recycling & Clothing Donation Events
Electronics Recycled
191 tons

Cell Phones Recycled
1,245 pounds*

Clothing and Linens Collected
104 tons**
*Clothing and linens collected during these events were donated to Goodwill Industries and The Salvation Army
BWPRR Program Promotion
back to top | back to electronics recycling | back to events
---
2006 Spring Cleaning Events
Electronics Recycled
118 tons

Cell Phones Recycled
862 pounds

Clothing and Linens Collected
31 tons*
*Clothing and linens collected during these events were donated to Goodwill Industries and The Salvation Army
BWPRR Program Promotion
back to top | back to electronics recycling | back to events
---
Fall 2005 Electronics Recycling Events
Electronics Recycled
196 tons

Cell Phones Recycled
1,432 pounds
BWPRR Program Promotion
back to top | back to electronics recycling | back to events
---
Fall 2004 Electronics Recycling Events
Electronics Recycled
50 tons

Cell Phones Recycled
300 pounds
BWPRR Program Promotion
back to top | back to electronics recycling | back to events