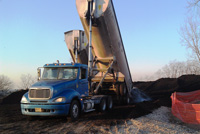 Soundview Park Mitigation Project



 background


 the right project found


 DSNY contribution

---

Background



The Soundview Composting Site was constructed and permitted in the year 2000. As part of the NYS Department of Environmental Conservation permit, the NYC Department of Sanitation (DSNY) agreed to improve 12 acres of distressed or unimproved park land within the greater Soundview Park. 

It took some time for the NYC Department Parks and Recreation (DPR), in consultation with DSNY, to locate an appropriate, contiguous 12-acre parcel of undeveloped land within the 205-acre Soundview Park that could be restored using available funding.

back to top | back to DSNY compost sites 


---
The Right Project Found
Finally on July 29, 2011, consensus was reached and a Memorandum of Understanding was signed between DPR and DSNY. 
The project chosen was a DPR wetland restoration program overseen by the US Army Corps of Engineers (ACOE).

 With DSNY resources and capital funds, the original ACOE wetland restoration program was expanded to include the restoration of an adjacent 12-acre meadow located along the east bank of the lower Bronx River as it empties into the East River.
To accomplish the restoration of this wetland area, the ACOE put out a bid and hired Galvin Brothers, Inc. (GBI) as the project contractor to: 
Excavate, grade, fill, re-contour, and plant native species within the marsh layout.
Design and build earthen berms, a walking path, and scenic overlook. 
back to top | back to DSNY compost sites
---
 DSNY Contribution 

The DPR and DSNY agreement obligated the DSNY's Bureau of Waste Prevention, Reuse and Recycling to provide:
22,000 cubic yards of compost from its compost site at Fresh Kills.
15,000 cubic yards of clean, sandy loam fill material that meets the NYSDEC Part 365  requirement for recycled soil from an outside source.
$1 million in capital funding for additional resources needed to complete the project.  
The DSNY supply of approximately 22,000 cubic yards of compost was used to cover 12 acres of land to a depth of one foot. The approximately 15,000 cubic yards of sand/soil was used to cover the same 12-acre area for the planting of indigenous species.